In this article you will find:
For the past decade, and especially in the last year, collaborative workspaces have been on the rise. Collaborative workspaces are becoming more common, especially for companies that want to emphasize teamwork and focus on the well-being of the group of employees as a whole. 
Collaborative workspaces are important to bringing in a sense of teamwork to your staff and creating unity and harmony. In this article, we will discuss how to create an effective collaborative space that can benefit your company and employees.
Creating collaborative workspaces
A collaborative space can mean a lot of different things. Some may look at it as an office that companies share for all their employees, while others look at it as a specific space that allows for people to work together and collaborate on projects and foster a sense of group work as well as creativity.
For the purpose of this article, we will talk about collaborative workspaces as spaces where the goal is to bring team members together to achieve a common purpose. Individual contributions should be accommodated in the shared workspace, even if they perform distinct responsibilities.
Collaboration begins with teamwork. Employees who need to collaborate will work together no matter what the goal or barriers are. Every corporate team-building exercise starts with this concept, and it should be at the heart of collaborative workspace design. When recognizing this, you will also be able to apply it to your collaborative workspace and create an atmosphere that is important to the teamwork of your staff.
So how do you go about creating a collaborative workspace? It starts off with figuring out what it is exactly your company needs.
What it means to have a collaborative workspace?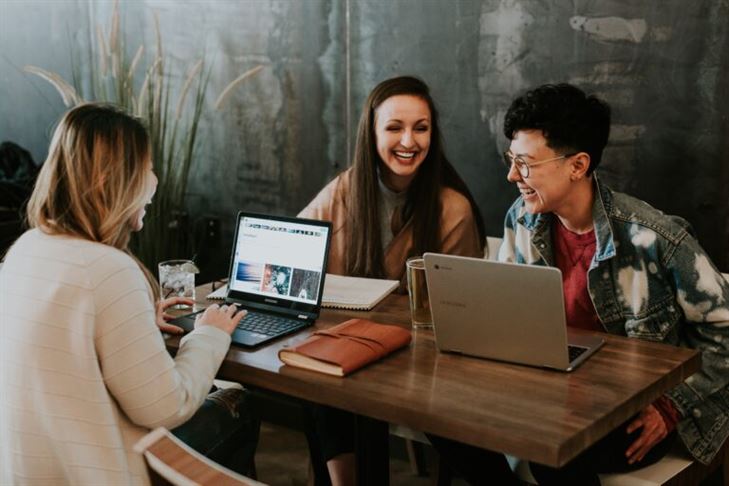 A good thing to understand when it comes to collaborative spaces is that you have to put care and attention when creating one. Simply adding a few seats to a big open space won't suffice and create a truly meaningful and important collaboration space. 
Instead of focusing solely on proximity consider the following:
Space:

 Making sure that there is enough space in the room you are planning on making a collaborative working space is extremely crucial. The last thing you want to do is to cram everyone together. Instead, make sure that you have ample space available to you to be able to fit in the desired amount of employees in your collaborative workspace without them feeling overly close to each other.

Comfort:

 Comfort is a very important aspect of productivity. If your employees are uncomfortable then it will be very hard for them to be able to work properly. Being in an environment that has a good atmosphere is an instant motivational booster. Think of things like light, acoustics, visuals, and so on.

Versatility

: It is important to have options when it comes to seating and your collaborative space. Having many people in one area means that there will be many different opinions and demands on what the space is like. Make sure you have versatility when it comes to the seating arrangement, furniture, and resources.

Technological needs:

 Tools that help collaboration are very important to a company that seeks to encourage teamwork and seeks to create collaborative workspaces. For more on how to integrate collaboration tools click here.
The benefits of collaborative workspaces
Having a collaborative workspace can reap many benefits for your flexible office. Creating a space dedicated to group work and collaboration has the power to bring your employees together to become more productive, bounce ideas off each other and create meaningful work relationships.
There are many other benefits that collaborative spaces can have for your company and employees. To learn more about the kind of benefits a collaborative place could bring to your company keep reading! 
The ability to inspire teams is one of the many advantages of collaboration. Isolation makes it difficult to be productive and motivated. Getting employees out of their individual offices improves the workplace's team dynamic and instils good attitudes that overcome apathy. Employees in a team are more likely to be interested and aware rather than fighting to stay up in the mid-afternoon and counting the minutes until the end of the workday.
Employees who are surrounded by productive coworkers are also a fantastic source of inspiration. For many individuals, the desire to contribute and pull their weight, as well as establish themselves as a useful team member, is a driving force for improvement.
A collaborative work environment provides opportunities for socialization. When employees share the same immediate workspace, it is much easier for them to get to know one another and form personal ties. This style of casual communication should be encouraged by businesses as well. Individually and as a member of the team, the personal bonds formed through everyday collaboration contribute to a higher grade of work.
Workers need collaboration space to stay up with the fast-paced business environment. Employees can work together to complete tasks swiftly. Without sending an email, one employee can quickly get feedback from another. Instead of scheduling a time, date, and location independently, some can even work together on the spot to achieve a task, regardless of how spontaneous it is.
Collaborative work environments help businesses stay flexible and adapt to changing tasks by speeding up problem-solving and production.
4. Stronger sense of team
Workplace culture is vital, and employee attitudes play a big role in it. Bringing individuals closer together and promoting daily collaboration has a significant impact on the culture of the company. Socialization, problem-solving, and skill pooling help to form a close-knit community that is more likely to uphold the principles it holds dear. Your workforce transforms into a community all of a sudden.
Companies that appreciate the impact of cooperation on culture and embrace their employees' beliefs will reap fantastic results. Strong corporate culture attracts and retains employees, generates favourable workplace sentiment, and encourages meaningful contributions.
People come together in a shared environment in collaborative workspaces. As a result, they reduce the amount of physical space required to accommodate each employee individually. This means that costs are reduced, available workspace is maximized, and more floor space usage is encouraged. 
This could be a great option if you are looking to solely transform your office space into one big collaborative working space.
Collaborative working spaces are a key component of a company looking to encourage teamwork and make it more accessible and comfortable for its employees. Collaborative workspaces can do wonders for your company as they can increase productivity, employee satisfaction, flexibility, and many other aspects.