This article is part of the school of coworking course through Archie. Make sure to check out the other articles to learn more about how to start a coworking space business. 
1. What are Metrics, Data, and KPIs?
Data is the number generated from any given area of your coworking space. Essentially, any number produced by your business, from your net revenue to your website visits, is data. These raw numbers are then used as a foundation for creating metrics.
If data is a raw number, a metric is what quantifies it. Metrics can be comprised of a single type of data or of multiple types as datasets. Ultimately, when thinking about metrics make the difference between numbers that matter and numbers that don't
If we take online ads as an example, impressions is the metric and represents the data which is the number of times your ad has been shown.
The term "Key Performance Indicator", or KPI, is commonly used when referring to metrics and data but it is important to note that while all KPIs technically are metrics, not all metrics are KPIs.
KPIs can be very complex and sophisticated and comprise multiple metrics or they can be simple and comprise just one metric.
Don't panic if this still sounds a little bit confusing, everything will be further explained throughout the article.
2. Metrics & KPIs for your Coworking Space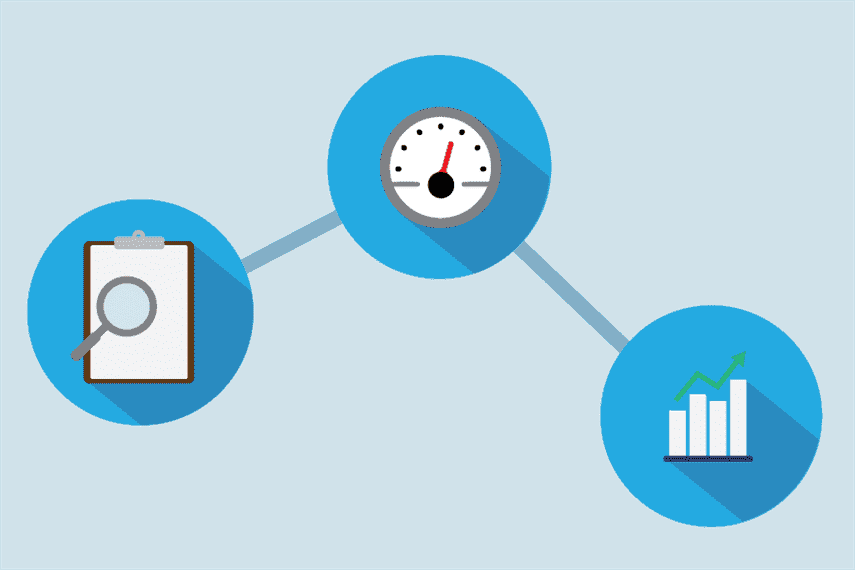 From a business point of view, the reasons for tracking the right metrics and KPIs are endless but navigating the different metrics and KPIs, not to mention the sheer volume of data alone, can be overwhelming.
That being said, when utilized properly, metrics and KPIs are some of the best tools you can have to ensure the successful growth and financial health of your coworking space.
You are probably already wondering what the right metrics and KPIs even are, and the answer is that it depends on what a coworking space operator wishes to measure the success and health of the business.
While it's true that the right set of metrics and KPIs can vary, there are some basic KPIs that all spaces should track.
The following sections will detail the main metrics to track and how to efficiently do so.
3. High-Level Coworking Space Dashboard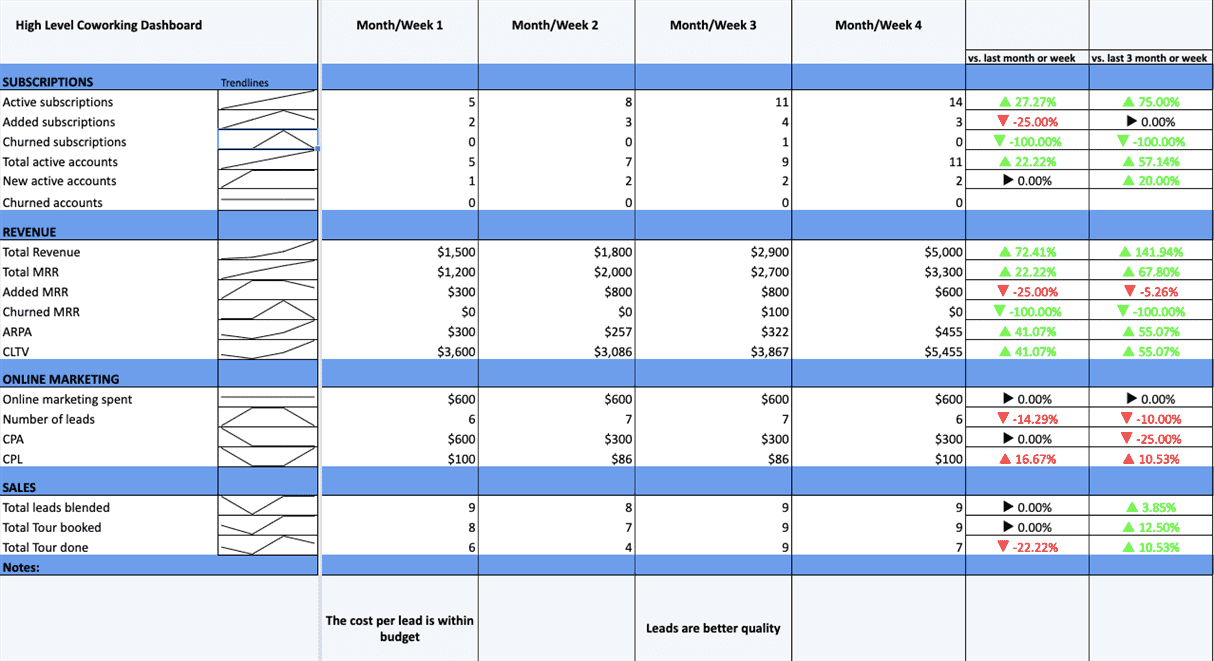 Your coworking space Dashboard will be your tool to track the different KPIs. You will input each metric and continuously track them using this dashboard to measure the health and success of your coworking space.
The main KPIs and metrics you should include in your main coworking space dashboard can be divided into two categories: Subscription & Revenue and Sales & Marketing, each encompassing a number of different metrics as it is shown in the template above.
3.1 Subscription & Revenue Metrics
Subscriptions
It is important that you stay on top of your subscriptions. Tracking how many members are joining, leaving, and staying every month will reveal potential issues. For example, if you notice that you are acquiring new leads every month but that you are losing an equal amount of existing members you will want to look for issues with your operations rather than your marketing.

Total Account this number is different from total memberships. An account has multiple individual users under one single subscription. Your total number of accounts can be calculated by adding the sum of all new accounts and subtracting any churned accounts from the current number of active accounts for the time period.
Formula for Total Accounts → TA = Active  + Added - Churned

Total Membership is your total number of active subscriptions across all accounts for a given period, usually calculated on a monthly or yearly basis. To calculate this you will need the number of added subscriptions and churned subscriptions for the time period.
Formula for Total Membership → TM = Active  + Added - Churned

Revenue
It goes without saying that tracking your revenue is essential. The metrics below are used to provide an overview of your revenue streams.

Total Revenue (TR) is the income your business earns in exchange for the sales of goods and services. The total revenue of your coworking space can be calculated by adding together your space's Monthly Recurring Revenue (MRR) to the revenue generated from your additional services (events, desk booking, food, etc.)
Formula for Total Revenue → TR = Recurring Revenue + Services

Average Revenue Per Account (ARPA) is your the total amount your members are paying you divided by the total number of members for that month.
Formula for Average Revenue Per Account → ARPA = MRR ÷ Total Members

Total Monthly Recurring Revenue (MRR) is the recurring revenue your coworking space is expected to routinely earn for a given period. This revenue is mostly generated from memberships' monthly rent income. It is possible that some memberships are paid out yearly or weekly, in which case you will have to convert them to a monthly rate for the purpose of this calculation.
Your MRR can be calculated by multiplying the Average Revenue Per Account (ARPA) with the Total Membership.
Formula for Monthly Recurring Revenue → MRR = ARPA x Total Membership

Added MRR will be the sum of all new recurring revenue from memberships. To calculate your added MRR you will simply take your starting MRR and add your the total of added memberships.

Formula for Added MRR → Added MRR = MRR + Total Added Memberships

MRR Churn rate will represent the percentage of monthly income lost from canceled contracts. To calculate this rate you will take the sum of all canceled contracts and divide it by your MRR from the beginning of the month and multiply that number by 100 to obtain the gross MRR churn rate.
Formula for Churn Rate → MRR Churn Rate = Sum of Churned Subscriptions ÷ MRR x 100
Customer Lifetime Value (CLTV) is an estimated total income your coworking space can expect from one member for the duration of the business relationship. This metric is used to help businesses predict an estimated future cashflow and can be calculated by multiplying the customer value with the customer's average lifespan.
Formula for Customer Lifetime Value → CLTV = Customer Value x Average Lifespan
3.2 Sales & Marketing Metrics
Marketing and sales need to be tracked in order to determine whether or not your strategies are effective. If you are spending a large sum in marketing every month but your subscriptions metrics are not reflecting it then you will know what to tackle first.

Sales & Marketing Spent is how much you spent on sales and marketing for a time period. To obtain the number you simply need to add your sales and marketing costs for the month together.
This can include cost of online ads, lead campaigns, etc.
Formula for Sales & Marketing → S&M = Total Cost Sales + Total Cost Marketing

Cost per Lead (CPL) is the metric used to measure the cost of generating a new lead for your coworking space. Leads can be produced from different channels and can be split into these respective channels, or they can be blended. To calculate your coworking space CPL you need to divide the total cost of lead campaign by the number of leads that were obtained.
For example, if you spent $1,000 on lead campaigns this month and 10 new leads were generated the calculation would be Cost per lead = $1,000/10 and the CPL would be $100.
Formula for Cost per Lead → CPL = Money Spent ÷ Leads obtained

Cost per Acquisition (CPA) similarly to CPL, measures the cost of acquisition but for new members instead of leads. You can calculate your CPA by dividing the total spent on acquiring new members by the total number of new members.
Formula for Cost per Acquisition → CPA = Total Spent ÷ Total New Members

Leads to Tours Conversions. You will also want to measure how many tours your coworking space booked, and the number of tours conducted and divide it by the number of new leads generated during that same time period to determine how effective your lead strategy is.
Formula for Leads Conversion → Total Leads Generated ÷ Total Tours

Total Cost is the total of all expenses related to your coworking spaces added together.
4. Improving your Coworking Space Performances with a Custom Metrics Dashboard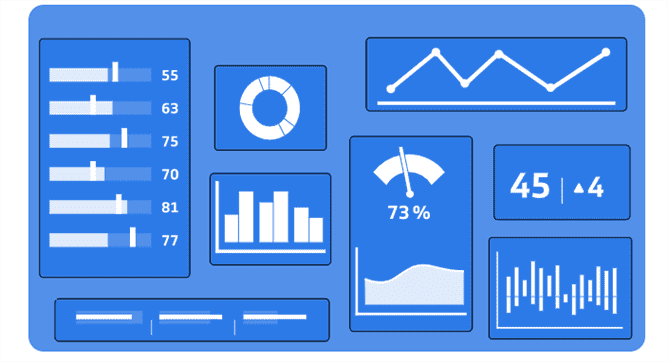 The purpose of having a health dashboard for your coworking space is to increase your performance and revenue.
By tracking the different metrics included above, you can visualize the health of your space and tweak different aspects to optimize the results.
A good dashboard should help you answer relevant questions such as:
How your sales are growing
How you are growing subscriptions
How your marketing channels are performing
How well leads are being converted
How your costs are doing
For example, if you're putting a lot of money on online ad campaigns but you're not seeing the results in new leads and member acquisition then you will know to closely monitor the CPL and CPA KPIs for a set period of time to identify the issue and resolve it.
It is likely that you will create secondary dashboards for specific KPIs to identify these issues
5. Using a coworking space software to reduce reporting burden
Coworking space software have become very convenient ways of handling the organizational aspect of coworking spaces. Using a coworking space software is the most efficient way to alleviate the burden of KPIs management and reports.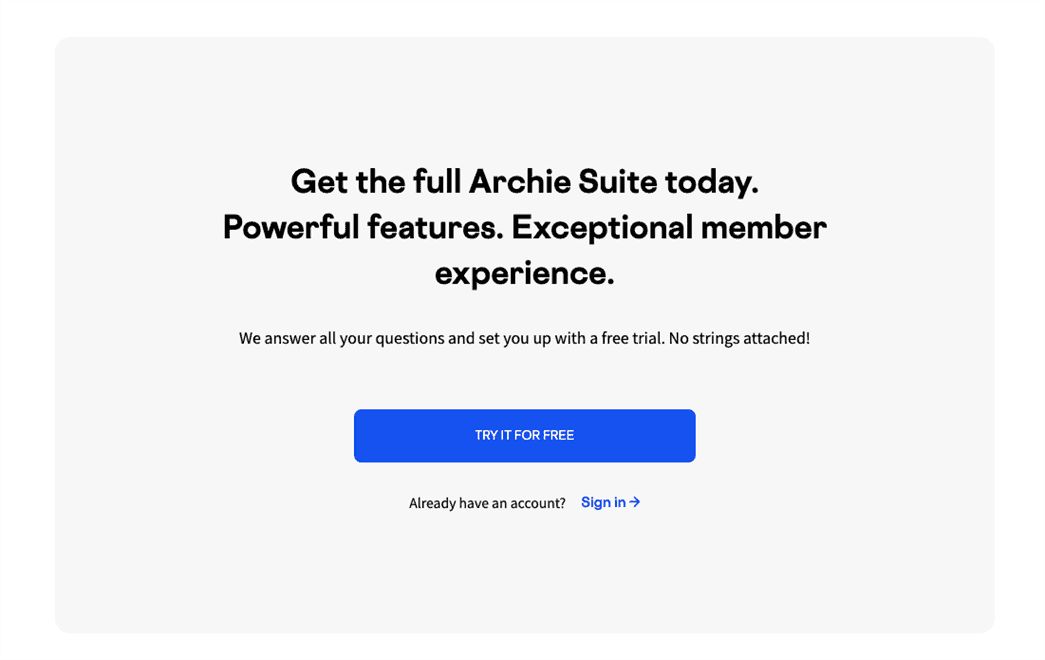 With Archie, a leading coworking space software**, you will be able to handle everything ranging from automation, booking, invoicing, and much more with the click of a button. Not only are you able to provide a professional experience for your clients when they book your space, but you will also have the option of automating aspects of your business that otherwise keep you from more important things.
Archie can help you handle your finances and documents by automatically creating invoices, financial reports, accounting reports, and contracts.
Still, have questions or something you wish to discuss? Join our Facebook Group and enter the conversation on everything coworking.