In the evolving landscape of the modern workplace, coworking spaces are like a lighthouse, guiding professionals toward a flexible and collaborative work environment. Their rapid proliferation prompts an essential inquiry: How lucrative is the coworking model? With recent forecasts by Statista predicting the global number of coworking spaces to exceed 40,000 by 2024, the importance of understanding their profitability has never been more preeminent. This guide aims to unravel the economic fabric of coworking, weaving together data-driven research, industry insights, and pragmatic strategies to shed light on the profitability of these dynamic spaces.

The Current Landscape: Are Coworking Spaces Profitable?
A recent survey by Deskmag provides a compelling insight: 72% of coworking spaces turn profitable after two years in operation. But what drives this profitability? And how do coworking spaces navigate the challenges of their initial non-profitable years? Let's explore.
Decoding Coworking Profitability: Key Metrics
In the journey towards achieving profitability in coworking spaces, various factors play distinctive roles. Here, we break down these elements by their potential impact on profitability. The percentages indicate the relative importance of each factor in achieving overall profitability.
Membership Structure (30% of Profitability)
Membership fees stand as a foundational revenue source for many coworking spaces. Offering a diversified range of membership plans, from daily passes to private offices, allows spaces to accommodate a broader demographic. Data reveals that coworking spaces with up to 60 members might barely break even or might operate at a loss. The threshold of profitability often emerges when membership totals around 100. As more members join, profit margins typically see an uptick. In the grand scheme of achieving profitability, the structure and strategy of memberships can influence up to 30% of the total profit.
Location and Overheads (20% of Profitability)
Location plays a crucial role in both attracting members and determining costs. Prime city-center locations command higher fees but also come with steeper rents. Balancing these factors is crucial.
Ancillary Revenue Streams (15% of Profitability)
Beyond memberships, successful coworking spaces tap into additional revenue. Hosting events, offering consultancy services, or providing amenities like cafes can increase profitability.
How to Make a Coworking Space Profitable
Revenue-Oriented Space Allocation
Every inch of your coworking space should be designed with profitability in mind. While community areas foster networking and collaboration, they must be balanced with revenue-generating spaces.
Revenue-Oriented Space Allocation
Community Areas: Essential for member interaction, community areas should be strategically located to not consume prime space. According to a report from Deskmag, members highly value networking opportunities.
Convertible Spaces: Spaces like phone booths, meeting rooms, and additional desks are direct revenue generators. Evaluate the trade-offs between member comfort and revenue potential.
Leverage Floor Plans for Optimal Space Utilization
Visual tools, such as floor plans, are invaluable for space optimization.
Visualization

: Tools like Archie's floor plan feature help visualize space allocation, making it easier to spot underutilized areas.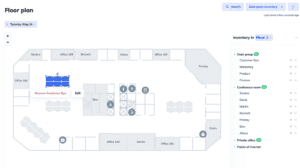 Space Conversion

: For example, if there's a corner that remains shadowed during events, consider turning it into a quiet zone or a phone booth.
Gain Insights on Space Usage
Understanding how members use the space is essential.
Usage Analytics

: Platforms like Archie offer insights on frequent occupancy patterns. A room that remains unbooked might be more profitable as a dedicated workspace or a relaxation zone.

Feedback Systems

: Regularly solicit member feedback. Collecting and analyzing user feedback on space usage and preferences.
Diversify and Expand Revenue 
Membership fees are foundational, but diversifying revenue is vital.
Events & Workshops

: Hosting events or paid workshops can be profitable.

 

Local Partnerships

: Collaborate with local businesses or cafes. Such partnerships can offer mutual benefits, with discounts for your members and increased patronage for the businesses.
The profitability of a coworking space isn't solely about the number of members but how effectively the space and services are managed. By combining strategic space management with diversified revenue channels and technology, coworking spaces can thrive in this competitive market.                                     
How Much Money Do Coworking Spaces Make? A Breakdown
Profitability varies significantly based on company size and location. Here's a generalized breakdown:
Small Spaces (up to 50 members):

Often operate at a loss or break-even.

Medium Spaces (50-150 members):

Can expect profits in the 10-20% range.

Large Spaces (150+ members):

Often see profit margins of 20-30% or higher.
City-center locations in major metros can command higher membership fees, but this is offset by higher operating costs. In contrast, suburban or smaller city locations might have lower fees but benefit from reduced costs.
Understanding Costs in Coworking Spaces:
Coworking spaces have a mix of fixed and variable costs, some of which offer direct ROI while others are essential expenditures.
Fixed Costs (One-time Investments):
Furniture and Infrastructure:

This includes tables, chairs, lounges, and other essential furnishings to set up the coworking space.

Tech Installations:

Setting up Wi-Fi systems, security cameras, or other tech installations come under this category.

Initial Marketing and Branding:

This includes costs related to launching the space, like opening events, initial digital marketing campaigns, and branding materials.
Ongoing Costs:
Lease:

One of the most significant monthly expenditures, especially for spaces in prime locations.

Utilities:

This includes electricity, water, and other essential utilities.

Staff Salaries:

Salaries for community managers, cleaners, and other essential staff.

Maintenance and Cleaning:

Regular upkeep of the space.

Software and Internet:

Costs for coworking management software, high-speed internet, and other tech services.

Marketing and Community Events:

Regular marketing efforts and community-building events.
Strategies to Increase Profitability
Feedback Mechanisms:
Engage Regularly

: Actively communicate with your members through surveys, focus groups, or informal chats to gather feedback.

Iterate Offerings

: Use the insights gathered to fine-tune your services, amenities, and workspace environment.

Feedback-driven Innovation

: Introduce new features or adjust existing ones based on what your members genuinely need.
Leveraging Spaces for Non-Members:
Meeting Rooms

: Open your meeting rooms for external bookings. Local businesses or remote teams might need a professional space for occasional meetings.

Events

: Your coworking space can be an excellent venue for workshops, networking events, or even social gatherings in off-hours.

Specialty Rooms

: If your space boasts unique features like podcasting rooms, video conferencing suites, or brainstorming hubs, consider renting these out to non-members.
Café and Refreshment Revenue:
In-house Cafés

: If your space has an in-house café, it's a brilliant source of additional income. Offering discounts to members can boost sales, while keeping prices competitive for non-members can attract external footfall.

Snacks and Beverages

: Stocking up on snacks, coffee, or even quick meals to members who prefer to work uninterrupted. This not only enhances their experience but also adds to your revenue.
Tiered Membership Options:
Virtual Coworking

: emote workers and freelancers who need access to online community events, resources, and networking without the physical space.

Lounge Membership

: Ideal for those who desire a relaxed environment to work and connect but don't need a dedicated desk.

Flex Desk Membership

: For members who prefer flexibility, offering an open seating plan where they choose an available desk on arrival.

Fixed Desk Membership

: members who prefer having their dedicated space, ensuring consistency and a personalized workspace.
Optimizing Revenue from Different Spaces:
Private Offices

: Evaluate the profitability of dedicated office spaces. They can be a significant revenue source, especially for corporate teams or startups seeking a private environment.

Individual Memberships

: Assess the revenue generated from freelancers, remote workers, and solo entrepreneurs. Their flexibility often means they're a recurring source of income.
Embrace Technology:
Advanced Management Software

: help to gain insights on space usage, enhance bookings, and optimize billing processes.

Data-driven Decisions

: Harness the power of analytics to understand peak usage times, member preferences, and more.
Utilizing Software for Revenue and Optimization:
Tracking Tours

: By monitoring the number of tours given to potential members, you can gauge interest and tailor your pitch for increased conversions.

Churn and Expansion Analysis

: Understand why members leave (churn) and how many choose to expand their workspace or services. This helps refine offerings and improve retention.

Space Utilization Metrics

: Use software tools to track which parts of your coworking space are frequently used and which aren't, helping in informed space rearrangement or allocation.

Revenue per Square Foot

: This metric provides insights into how efficiently space is being utilized concerning revenue generation. High-performing areas can serve as models for other parts of the workspace.
Balancing Customer Growth with Revenue per Member: Strategies to increase Profitability in Coworking Spaces
Segmented Marketing Campaigns:
Acquisition Focused

: Implement campaigns targeting freelancers, startups, and remote teams, showcasing the benefits of your coworking space. Offer promotions or trial periods to attract new members.

Retention Focused

: Design campaigns for existing members highlighting premium services, loyalty discounts, or referral bonuses.
Diversified Service Offerings:
Consultancy Services

: Offer business consultancy services, workshops, or mentorship programs as premium add-ons.

Tech Tools

: Rent out high-tech equipment or software licenses that startups might not want to invest in initially.

Wellness Programs

: Introduce yoga classes, meditation sessions, or health workshops, turning your space into a holistic work environment.
Dynamic Pricing Models:
Demand-based Pricing

: Adjust prices based on demand. For instance, if your coworking space sees more traffic on weekdays, prices for those days can be slightly higher.

Bulk Booking Discounts

: Offer discounts to members who book spaces for extended

periods or large teams.
Partnerships and Collaborations:
Local Businesses

: Collaborate with local cafes, gyms, or stores. Members can get discounts, and in return, these businesses get increased footfall from your coworking space.

Online Tools & Software

: Partner with software providers to offer members discounted or exclusive access to tools that can enhance their work.
Optimizing Operational Costs:
Energy Efficiency

: Implement energy-saving measures to reduce utility bills.

Bulk Purchases

: For amenities like coffee, stationery, or snacks, bulk purchases can lead to significant savings.
Example P&L for a Coworking Space
Coworking profitability is not a given; it's an outcome of strategic planning, adaptability, and continuous engagement with the member community. By understanding key metrics, diversifying revenue streams, and leveraging feedback, coworking spaces can establish a route to long-term profitability.