In this article you will find:
This article is part of the school of coworking course through Archie. Make sure to check out the other articles to learn more about how to start a coworking space business.
Designing a coworking space goes beyond picking the right furniture and decor accents. You will need to go through several steps before you can even begin to think about the aesthetics of your space. 
Because designing a coworking space can be exceptionally overwhelming, we have divided the operations of this elaborate process into 5 simple steps to help you get started in creating a functional and inspiring space that will attract customers and keep them coming back!
Normally, if you are at the design stage of building your coworking space, you already have your comprehensive business plan in your hands. 
A well-drafted business plan should include key data such as a market and competitor analysis, an overall budget, and a target audience to be reached. 
Having this information at hand will simplify the other steps involved in the process of launching your co-working space so if you don't already have one we highly recommend that you pause here and take the time to create one.
The first step of designing your co-working space is to draft up a construction surveying document which will include the macro scopes of your project as detailed below.
Total space size of the project
You need to establish the exact size of useable surface area in order to exploit every square inch available to its fullest potential. 
Your overall square footage will determine what kind of workspaces and amenities your space will be able to accommodate.
How many people per square foot can you fit in your space without compromising comfort? This is a deciding number in figuring out how many people you will be able to host in your space at once, as well as providing the essential measurements for furniture buying. 
For example, on average, one person will require between 52 to 63 sq. feet in a coworking space containing mostly closed offices and between 54 sq. ft and 35 sq. feet per person in an open floor plan space containing mostly hot desks. 
Take note that the numbers listed above are square feet per person in the total square footage of the space and not square feet per person per square footage of total workspaces. In other words, one person will require 52 to 63 sq. feet in total, including workspaces, common areas, bathrooms, and so on.
Number of office spaces required
Consider exactly what type of desks you want to offer, how many of each, and what will be most profitable for your business. 
Depending on the size of your business model or location you might want to focus exclusively on hot desks and communal workspaces, or you might want to maximize the number of closed offices and conference rooms. 
As a baseline, for each 40 people you can host in your space, allocate a minimum of:
1 conference room (fitting 6-7 people)
1 phone booth
1 bathroom
Total cost per square foot for the base building
What are the base building costs of building out your space? 
Base building costs include electrical work, ventilation and plumbing modifications, electric wiring, flooring, any demolition necessary, and other larger foundational renovations the space might need. 
Keep in mind that these costs are usually the most extensive so utilize the space's existing plumbing and electrical wiring when possible or negotiate the terms of your lease agreement with your landlord to include the base building listed above.
Total cost per square foot for the space buildout
Those costs will reflect everything not included in the base building, mostly tenant improvements and furniture, fixtures, and equipment.
Time frame for the project
You will need to establish a timeline for the realization of your project. 
Be realistic. It's important to take into account the time your project will take to be fully realized on top of the resources you will need. 
A commercial space that needs to be demolished and rebuild will take between 8 month to 1 year to be ready. If the base building is already there, it should take 6 months to go from signing the lease to opening the space 
Below is an example of what the overview of your macro scopes should look like. 
Download the template or save it to your Google Drive here → Macro Scopes Doc.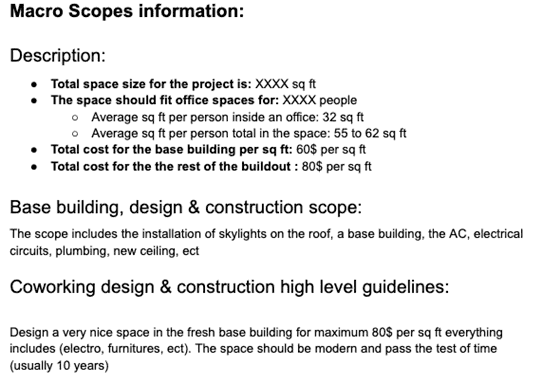 This might sound redundant from what you have already done in your business plan but we assure you that going through this step in detail will drastically improve your design journey.
Step 2: Outlining Your Space Layout
This section of your comprehensive construction survey will include the high-level requirements of your design plan. This is an important step, it will help you visualize how much space to allocate to a certain area depending on the furniture and appliances required in it and see if it fits your business model.
By now you are probably wondering what a well-optimized floor plan is and what it looks like. 
The best way to figure that out is to go online and look at what competitors are doing. 
For example, looking at a WeWork floor plan (example below) will give you a good idea of how experienced operators plan their coworking spaces.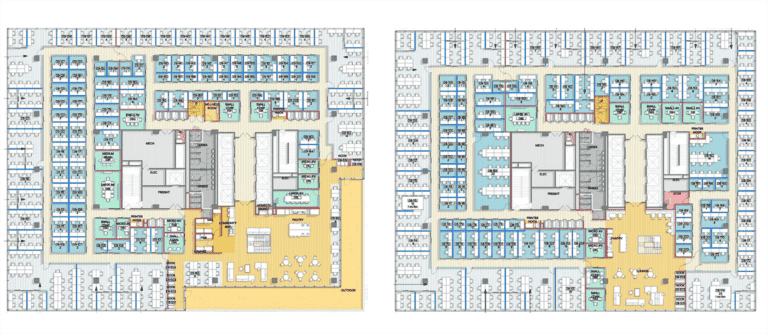 To keep yourself organized and your space optimized, begin by defining your subspaces and creating checklists clearly stating the purpose and function of each area. 
These lists don't have to be overly complicated but should be as detailed as possible. 
Below is an example of a printer and mailroom area high level requirements' checklist. 
Download the template or save it to your Google Drive here → Requirements Doc.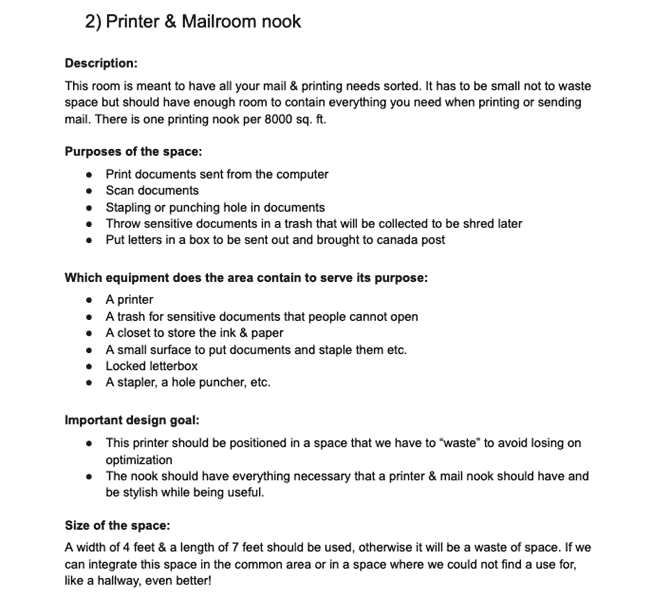 Giving each area its own flare is a great way to upscale your business, a space that flows together but offers different atmospheres will help boost creativity and productivity. 
Create a mood board for each subspace you included in your floor plan to keep your ideas clear and cohesive with one another. 
Your mood boards should be specific and include relevant details for the contractors and architect. Examples of details to include are the type of flooring you wish to use, the type of walls and ceilings coverings (plaster wall, drywall, etc.), and any paint requirements.
You want your space to be as efficient and enjoyable as possible for all parties involved, so be mindful when dividing your floor plan. 
If your space allows for it, include distinct quiet zones. If you are working with a space that does not allow for dedicated quiet areas you will want to provide your members with an alternative of sorts; a space where they cannot be heard and vice versa. 
Don't forget to include storage space that is out of the way for your members in your floor plan, no one wants a view of your supply closet when they are trying to get work done nor do they want to be disturbed by maintenance when they are accessing it. 
Everything in your coworking space should make for a seamless member experience.
If you have decided to work with an architect to help you with the floor plan, you can now pass on your comprehensive construction survey document and sit back while they present you with different layout options. 
Alternatively, if you've decided to go down the DIY path, you will have to draft up layout options yourself. This can be especially difficult for those of us who are unfamiliar with creating floor plans but rest assured we have got your back. You can use software like SketchUP or SmartDraw to do that.
Below is an image of what such a software looks like.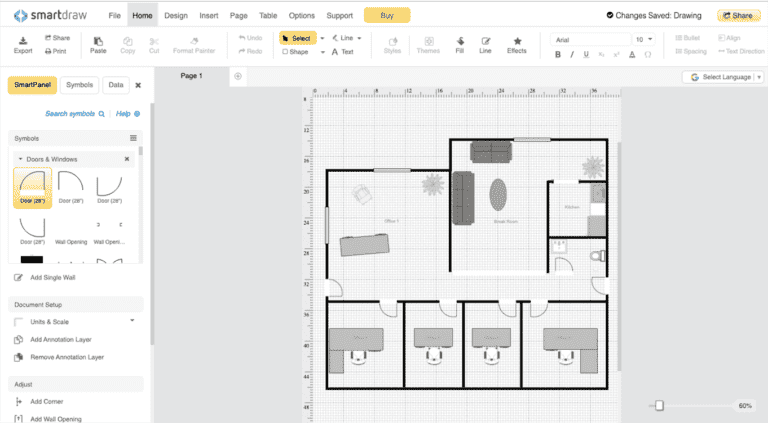 Now that you are ready and have your final floor plan, you can get your quotes to know what it will cost to build the space.
The preliminary steps are almost completed. Now that your scopes are well defined and that you have a solid idea of what your layout will be you can start getting quotes from contractors. 
This can be a demoralizing step to go through; it is more than likely that you will be told that something you initially had planned for isn't possible or simply too costly for your budget so be ready for it, have a backup plan handy, and be flexible in the process.
Big competitors such as WeWork & Spaces will typically spend $140 to $170 per sq. feet when building their spaces. 
It's important to keep in mind that their budget is conceivably much bigger than the average. 
Comparatively, smaller coworking spaces with mostly open concept floor plans can cost as low as $30 to $35 per sq. foot. 
Tip: If you are using a general contractor, this person will be in charge of collecting the quotes and finding the specialists to execute the buildout.
The do's & don'ts of obtaining quotes
Don't settle for the first quote you receive, get a second (third, and fourth) opinion! Ask around and compare prices before deciding on a contractor or supplier. 
Don't be afraid to go look at how big competitors are modelling their spaces for inspiration. 
Do keep in mind that general contractors often have access to reduced prices from their suppliers so while a general contractor can be expensive, hiring a professional could end up saving you more money in the end. 
With your quotes in hand, you can now move ahead to the next step.
Step 4: Floor Plan Revision
Once you've collected all your quotes you will likely need to make some adjustments to your existing floor plan.
This stage is for you to finalize your floor plan. Go back to your initial layout with a fresh pair of eyes and look for ways to lower your costs or further optimize the space. Properly complete this task and there should be no major setbacks during the final steps.
During this final drafting of your floor plan take the time to really visualize your future members in the space, walk the floor in real-time and on paper, find problem areas, and fix them. 
When conducting the walkthrough, ask yourself how well each area will work for your future members. 
For example: 
Will the communal areas generate high levels of noise pollution or foot traffic, affecting dedicated work areas negatively? 
How functional is the floor? Do you have enough washrooms for the capacity of the space or will your members end up queuing up all the way to the kitchen whenever they need to relieve themselves? 
Tip: Your original layout requires modifications? Avoid busting your budget with electrical or plumbing alterations, instead focus on what small details, like the placement and width of hallways, can be moved around to accommodate the changes. 
Now that your floor plan is finalized, you can begin the final step of the design process.
Step 5: Furniture Selection
At last, you have reached the final step; you have gathered all the tools, you have thoroughly explored all avenues, and now you are ready to furnish and decorate your space. furniture fixture equipment.
If budget or square footage is impeding your vision, don't panic. Remember that your space does not need to be the biggest or most luxurious to be successful. Instead, focus on the necessities.
When furnishing your space, you will want to go with something that will stand the test of time. Remember that the pieces you select need not only to be stylish and trendy, but they also need to be purposeful and conducive to a productive work environment. 
For example, if your common area also doubles as an event hosting space, look for furniture that is easily moved. Stackable chairs are a great space-saving option for multipurpose areas. 
Leading suppliers in office furnishing: 
Leading suppliers in office furniture on a budget: 
We recommend including diversified seating options in your co-working space. Don't be fooled into thinking that diverse seating options are exclusively reserved for larger spaces, you can find inexpensive ways to incorporate informal and formal desk options in any space – but be wary of trying to squeeze in too much in a small space.
Pay close attention to what type of lighting you are integrating; harsh overhead lighting across your space can be exhausting on the eyes and could affect your leads in potential members. instead, opt for warm ambient light, maximize natural light, and provide tabletop lighting options.
Including greenery in your design is sure to brighten your space and make it more inviting, and what's more, it will do wonders for your member's mental health. In a 2017 Forbes article on the correlation between greenery and productivity at work, it was found that green offices reported a "26% boost in cognition, and 30% fewer sickness-related absences." so don't skip out on plants!
Noise and privacy solutions
As mentioned earlier, it is crucial that you keep the level of noise pollution as low as possible in your coworking space and that your members can obtain a certain level of privacy when needed. 
This can be difficult, particularly when working with an open floor plan space. 
Installing wall-to-wall carpet in a large open space will drastically improve the acoustics and reduce the echo. You can also find more creative acoustic solutions with some office furniture suppliers. 
If your space is too small to accommodate private offices look for alternatives such as privacy screens and moveable partitions.
Furnishing your space is not limited to desks and chairs; you will also need to consider tech equipment like printers, scanners, etc. on top of the appliances you will need in the communal spaces such as microwaves, fridges, tv's and so on.
Congratulations! You now know the basics of designing a coworking space. Whether your space is 30,000 sq. feet or 5,000 sq. feet, you are readily equipped with the right tools and knowledge to take on this lengthy process successfully. 
Forget what you know about office design with its rows of identical cubicles under the constant buzz of fluorescent light and have fun with your coworking space; think of elements you can incorporate in the design that set you apart from your competitors and from the dull corporate office alike. 
Still, have questions or something you wish to discuss? Join our Facebook Group and enter the conversation on everything coworking.