Key Hybrid Workplace Statistics:
65% of global workplaces have adopted a hybrid work model as of 2023, up from 50% in 2020.

58% of employees report increased productivity in hybrid setups

85% of employees are more satisfied working in a hybrid model.

60% of employees prefer remote work within hybrid models.

40% favor onsite work, citing better collaboration and resource access.

There's a 30% reduction in office space requirements due to hybrid work, reflecting changes in workspace utilization and cost management.

By 2025, 82% of businesses are expected to have a hybrid work model, indicating its enduring nature and future standardization.
The future of work has unfolded before us, painting a landscape where the hybrid workplace reigns supreme. In this new domain, a blend of remote and in-office work has become the norm, with companies worldwide embracing this model for its remarkable benefits. But how widespread is this trend? Let's dive into the latest statistics to see  the depth and breadth of hybrid work adoption and its implications for the future.
Understanding the Hybrid Work Model:
The hybrid work model is a flexible approach that combines remote and in-office work, allowing employees to choose where they work best. Some opt for home, some for the office, and many for a mix. This model offers undeniable appeal, yet it comes with complexities, including the loss of spontaneous interactions that office life provides.
Hybrid Work Approaches: The High-Growth Choice
A study by Accenture reveals a telling correlation between hybrid work models and company performance. High-growth companies are adopting hybrid models at a stunning rate, suggesting a direct link between workplace flexibility and financial success.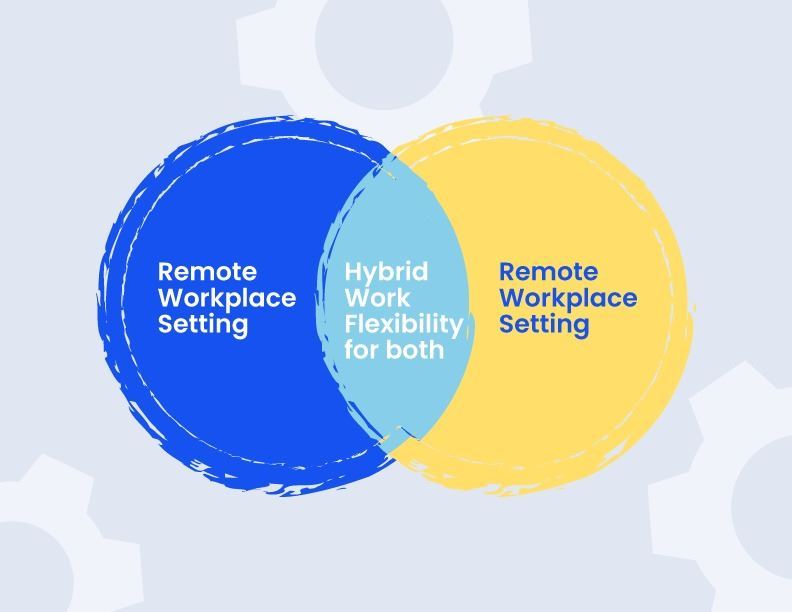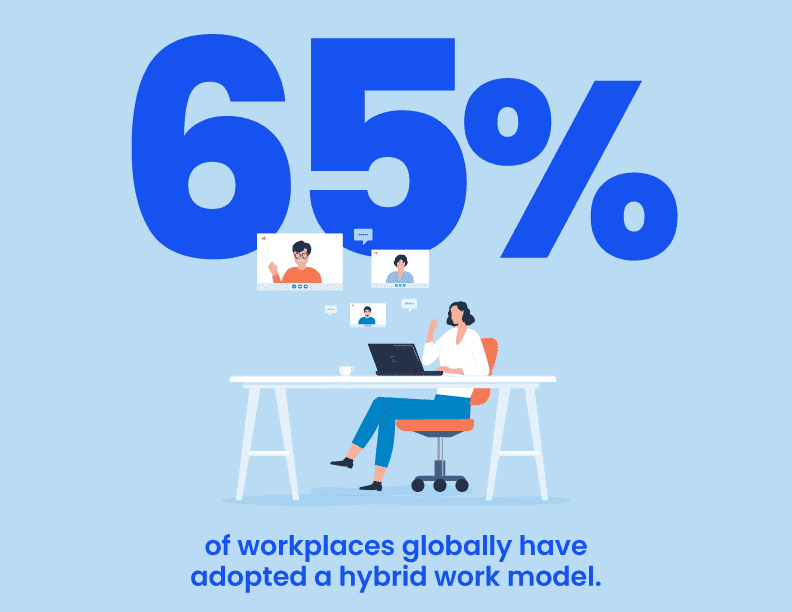 A change encapsulated by the statistic that a remarkable 65% of workplaces around the globe have now adopted a hybrid work model. This figure, sourced from ADPRI Research as of 2023, is not just a number—it's a narrative of transformation. It tells a story of adaptation and resilience, marking a substantial increase from the 50% adoption rate observed in prior years. The impetus for this swift and decisive change can be traced back to the global pandemic, which redefined the very fabric of workplace culture and operational norms.
As businesses were thrust into the throes of unforeseen challenges, the hybrid model emerged as a flexibility, allowing companies to maintain continuity and employees to balance personal health with professional responsibilities. The jump in adoption rates is a testament to the model's effectiveness and its resonance with the needs of a diverse workforce. It reflects a broader reevaluation of work-life integration, where the rigidity of traditional office hours has given way to a more fluid, results-oriented approach.
This 15-percentage-point increase within a short span underscores a paradigm shift in corporate work policies, signifying that the hybrid model is not merely a stopgap solution but a mainstay of the future workplace. It represents a collective embrace of technology that facilitates remote collaboration, as well as a recognition of the value that in-person interactions bring to the table. The data from ADPRI Research, suggests that what began as a crisis response has evolved into a strategic.
Productivity Statistics and Employee Preferences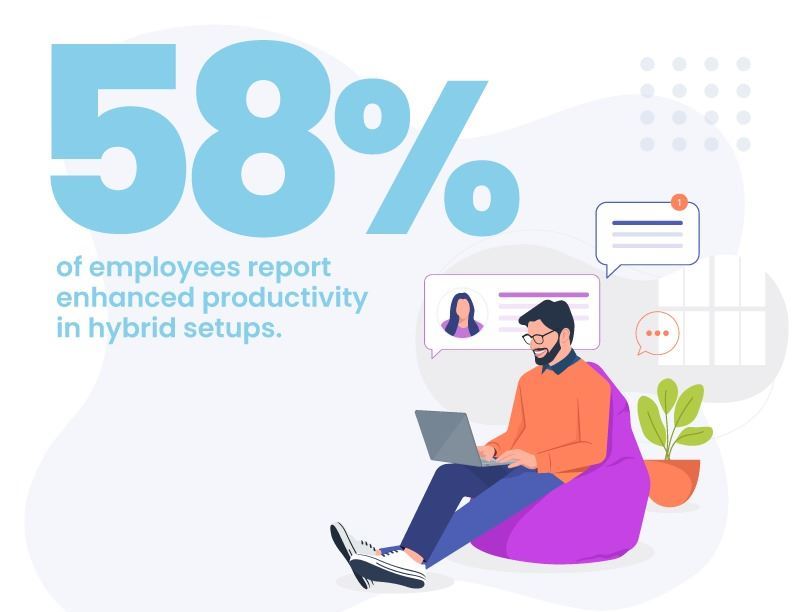 A key metric of which is encapsulated by the finding that 58% of employees report a notable uptick in productivity when operating within a hybrid work setup. This statistic, derived from research conducted by McKinsey & Company and published on May 17th, 2021, shines a light on the intrinsic link between the flexibility of the hybrid model and the effectiveness of the workforce.
Delving deeper into these findings reveals that this increase in productivity is intricately connected to the well-being of employees. A staggering 85% of the workforce has voiced a higher level of job satisfaction when engaged in a hybrid environment. This correlation is hardly coincidental; it reflects the psychological and practical benefits of a work model that harmonizes the structure of office life with the autonomy of remote work. Employees are finding that the ability to design their workdays to fit their personal lives and working styles leads to a more fulfilling work experience, which in turn, fuels their productivity.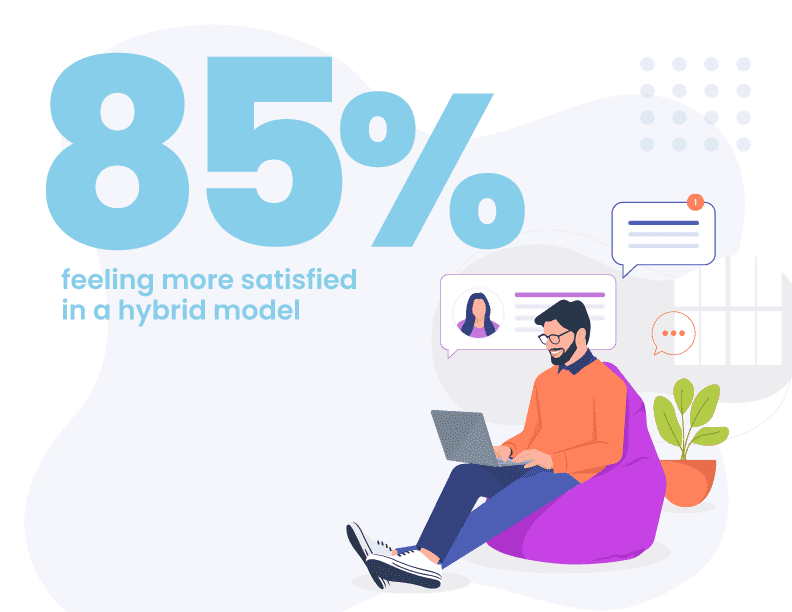 The data speaks to a broader trend where the conventional metrics of office attendance are being reevaluated in favor of outcomes and output. The flexibility to choose their work setting enables employees to minimize distractions, reduce commute-related stress, and optimize their work-life balance, all of which contribute to their overall sense of job satisfaction. The implications of McKinsey & Company's research are clear: the hybrid model isn't just reshaping where work is done; it's redefining how work is done to the benefit of employees and employers alike. As businesses continue to navigate the post-pandemic era, these statistics offer a compelling case for the hybrid model as a catalyst for productivity and a pillar of a modern, employee-centric workplace.
Remote Work vs. Onsite Work Preferences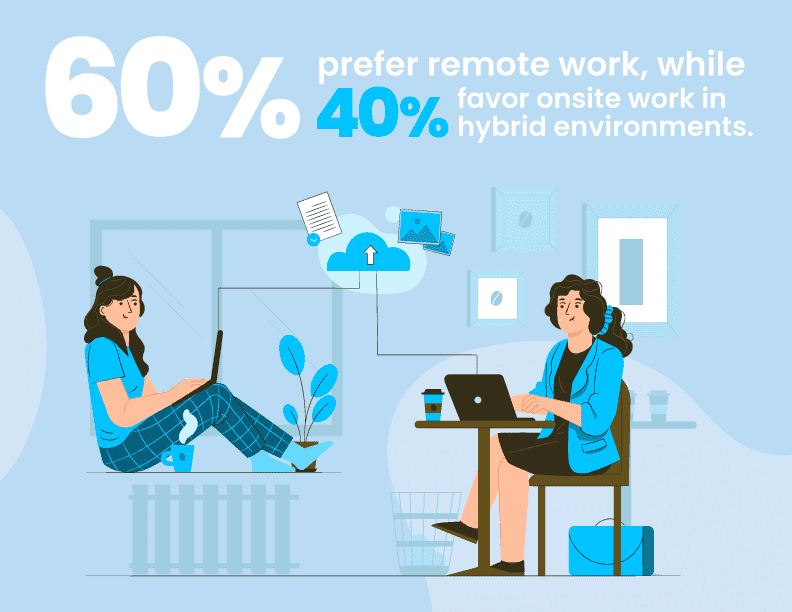 A Gallup Survey conducted on September 14th, 2022, sheds light on this aspect, revealing that 60% of employees prefer remote work, while a significant 40% lean towards onsite work within hybrid settings. This split in preference underscores the diversity of work styles and needs among the workforce.
The inclination towards remote work, as preferred by the majority, underscores the value employees place on flexibility and autonomy. This preference is often driven by factors such as the elimination of daily commutes, the comfort of a home office, and the ability to maintain a better work-life balance. Remote work allows employees to create personalized work environments that cater to their individual productivity styles, often leading to a more focused and less interrupted work experience.
Conversely, the 40% who favor onsite work highlight critical elements that an in-office environment uniquely provides. These employees often cite the importance of face-to-face collaboration and the spontaneity of interactions that occur in physical workspaces. Being onsite facilitates immediate communication, fosters a sense of community, and can enhance creativity through direct teamwork and brainstorming sessions. Additionally, access to onsite resources and infrastructure plays a crucial role for many, particularly in roles that require specialized equipment or collaborative workspaces.
This dichotomy of preferences in a hybrid work model illustrates the need for businesses to adopt flexible strategies that cater to both ends of the spectrum. While remote work offers undeniable benefits in terms of flexibility and individual productivity, the importance of in-office work in fostering collaboration, team bonding, and access to resources cannot be overlooked. The challenge for organizations lies in creating a hybrid model that harmonizes these preferences, ensuring both remote and onsite employees feel engaged, productive, and part of the team. As the workforce continues to evolve, understanding and accommodating these diverse preferences will be key to building a resilient and adaptable workplace culture.
Impact on Workplace Management
A Forbes article dated January 18th, 2023, provides a striking statistic: businesses have experienced a 30% reduction in office space requirements as a direct result of the widespread adoption of hybrid work arrangements. This figure not only underscores the significant impact of hybrid workplaces on real estate footprints but also highlights a broader shift in operational strategies and the optimization of resources.
The reduction in physical office space is a mirror reflecting the evolving dynamics of how and where we work. As companies adopt hybrid models, allowing employees to alternate between remote work and time in the office, the traditional need for expansive office environments has diminished. This shift is not about shrinking physical boundaries; it's about expanding the horizon of workplace possibilities. It illustrates a move towards more dynamic, flexible workspaces that can adapt to varying levels of occupancy and the ebb and flow of in-person collaboration demands.
This 30% downsizing is a significant figure that speaks volumes about cost management strategies that companies are employing. For many businesses, real estate is one of the largest fixed costs. By reducing the need for large, permanent office spaces, companies are able to allocate funds more strategically, investing in technology, employee development, and other areas that directly contribute to growth and innovation.
Moreover, this statistic indicates a change in the value proposition of office spaces. Rather than being a fixed location for day-to-day operations, offices are becoming hubs for collaboration, creativity, and community—spaces that employees visit for their added value rather than out of necessity.
As organizations continue to navigate the post-pandemic world, the 30% reduction in office space is a quantifiable testament to the enduring impact of hybrid work models. It suggests that the future workplace will be characterized by its fluidity, with businesses continuing to find equilibrium between remote work benefits and the undeniable value of in-person interactions.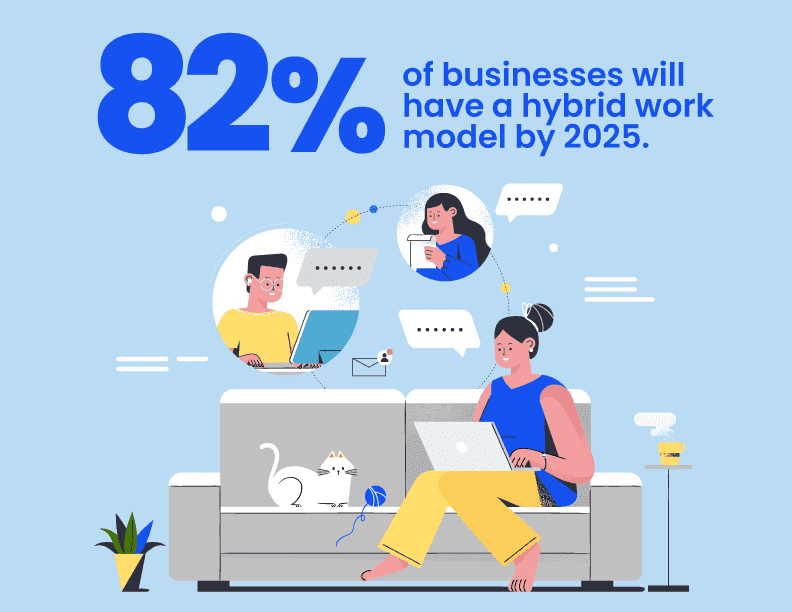 A 2023 report from the Society for Human Resource Management provides a compelling forecast: by the year 2025, an overwhelming 82% of businesses are expected to have implemented a hybrid work model. This statistic is a bellwether for the enduring shift in corporate structure, solidifying the hybrid model as the standard for the foreseeable future.
The projection of such a high adoption rate signals a deep-rooted transformation in organizational culture and work habits. Businesses are recognizing the benefits that hybrid models afford—not just in terms of employee satisfaction and work-life balance, but also in operational agility and cost efficiency. This widespread embrace of a flexible work model suggests that companies are looking beyond traditional office confines and reimagining the possibilities of a workspace that extends into the digital realm.
This 82% forecast isn't just a number—it's an indication of a shift that has been steadily gaining momentum. It represents a growing consensus among business leaders that the integration of remote and in-office work can yield unmatched productivity and innovation. By 2025, the hybrid model is set to become the norm, with businesses policies and environments that support this mixed-mode operation.
businesses are rapidly moving towards a future where hybrid work models are standard practice. As we approach 2025, organizations across the globe are poised to redefine 'workplace' in a way that promises greater flexibility, efficiency, and alignment with the digital age.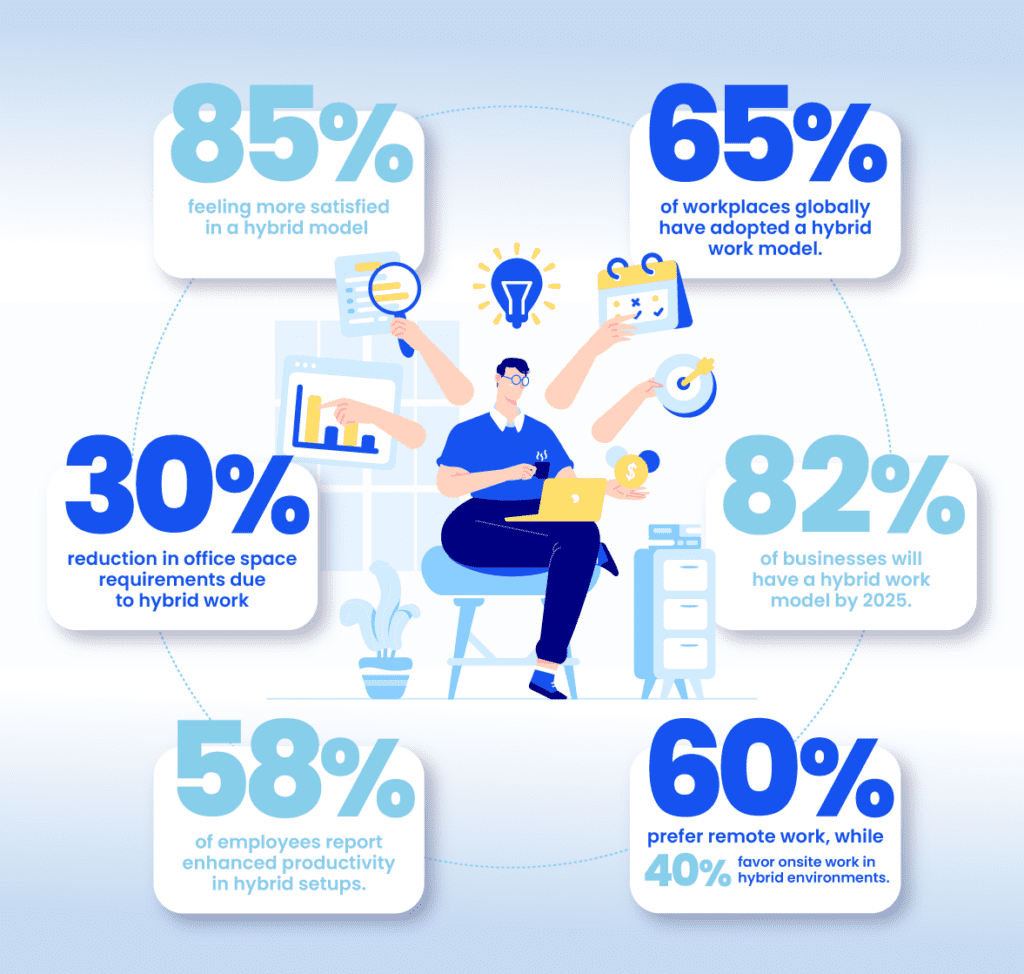 The statistics speak volumes: the hybrid workplace is not a transient trend; it's the plan  for the modern work environment. As we edge closer to 2025, the data suggests that hybrid work models will continue to gain momentum, shaping the way we think about work, productivity, and employee satisfaction. For businesses still on the fence, now is the time to explore hybrids.
Our methodology, grounded in analyzing diverse data sets, allows us to continually update these insights with the latest statistics as they become available. Some predictions are already extending into 2024, indicating a trajectory of growth and adoption that businesses can no longer afford to ignore. Now is the crucial moment for organizations still on the fence to consider and explore hybrid models, preparing for a future that's unfolding before us.