In this article you will find:
This article is part of the school of coworking course through Archie. Make sure to check out the other articles to learn more about how to start a coworking space business.
Attracting new members to your coworking space whether it's brand new or not can be challenging.
In the rapidly evolving landscape of office life, many coworking spaces are popping up, possibly leaving you somewhat lost in the masses. Therefore, making sure that your space stands out from the competition should always be at the top of your list.
Normally you should already have a rough idea of what your marketing strategies will be and should have included this overview in your business plan, now it's time to implement them.
This article will review the importance of having a marketing strategy in place, the different tactics and tools at your disposal and how to use them.
1. Marketing your Coworking Space
A solid marketing plan is essential for your coworking space and is needed for your advertisements to hit the mark and reach the right people. Additionally, having a strong marketing strategy in place is fundamental for consistent and coherent communications to your potential members.
You will need to put in place a marketing strategy and decide on which marketing tools to use.
Your strategy is what determines the message you want to send, the audience you want to reach, your product and service offerings, and your business goals.
The tools you choose are what's driving your strategy. Basically, your marketing plan should provide calculated reasoning behind each one of your tactics.
Let's take an in-depth look at the different marketing tools available to you. Remember that the right tool for your coworking space will vary from space to space (depending on size, location, defined goals, etc.) and it is likely that you will decide on a combination of different tools to achieve your marketing goal.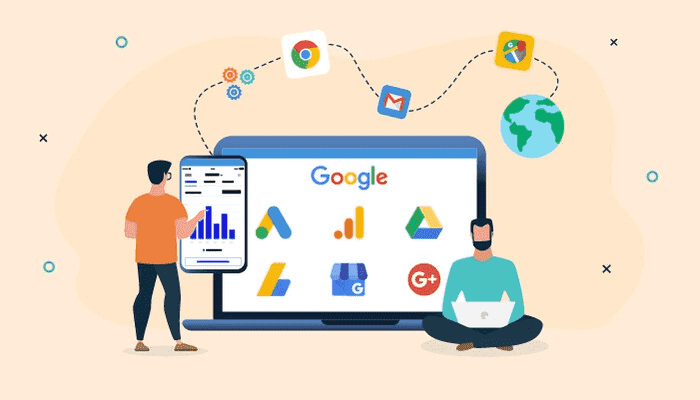 Pros:
Very effective
Help you target qualified leads
Good ROI – Large players use it
Cons:
Takes some time to see results
Requires a marketing agency to set it up
Requires marketing budget
Pay per Click (PPC) advertising is a search result tool with which you pay a fee for each time your ad is clicked on. This tool works very well and is one of the most utilized marketing tools out there.
If you're thinking of skipping out on paid marketing, don't. Google reported that search ads such as PPC increase brand awareness by up to 80% and that businesses earn an average of $2 for each dollar spent on Google Adwords.
With more than 40% of people clicking on the top three paid ads search results, the goal with PPC is to land at the top of the google search page to drive traffic to your business and website.
Steps of a PPC ad campaign on Google Ads:
Set up your Google Ad Account.
Define the campaign level. This is where you will set your goals, budget, and location for the campaign. 
Define your ad groups types and targeting options within your groups. This is step is for you to segment your product or services into specific keywords. 
Create your ad campaign. 
Below is a breakdown of a successful small Google Ad campaign led by coworking space operator Josh Coffy from Coffyspace: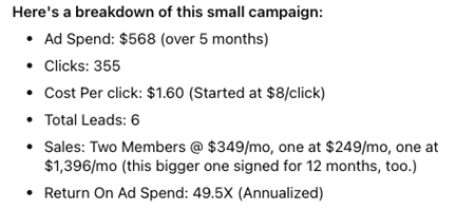 Needless to say, Pay per Click ads are worth every penny. Still, you will want to consider which stage you are at in your coworking space journey.
You will want to launch PPC campaigns when your space is either already or almost ready to open. If your space isn't near its opening date, the leads you generated with your PPC ads will go in vain as your potential member is likely looking for a space to rent in the present time.
3. Google Display Network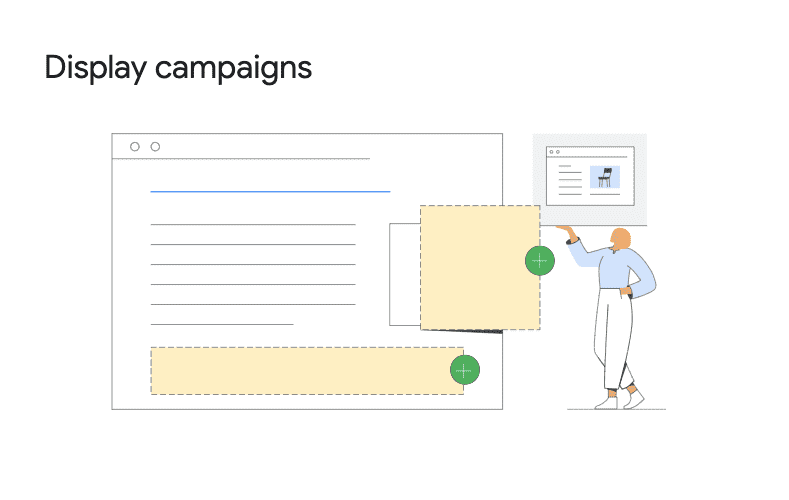 👍 Pros:
Increased visibility across the web
Good for retargeting and brand awareness
👎 Cons:
Larger audience
Higher cost of acquisition
You will need a marketing agency to set it up
Requires marketing budget
Google Display Network is another advertising tool by google. While PPC ads are displayed on a user's Google search page, display network ads work by showing your ads to the targeted audience as they browse various websites and apps. These are the ads that you see, often in form of banners, when browsing on Facebook, Youtube, and so on.
This option is a little bit more passive than the previous and doesn't convert into leads as well as a PPC campaign so it might not be worth your dime if you have a tight marketing budget.
Below is an example of a Google display ad: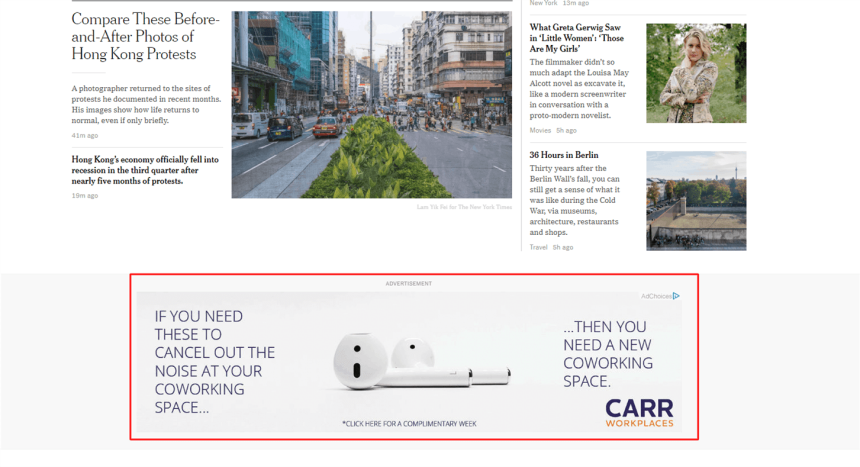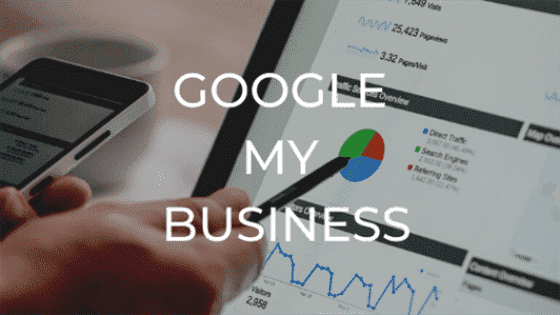 👍 Pros:
Free version available
Possibility to advertise to be on top of Google Map searches
Good ROI – Large players use it
Very efficient
Increases discoverability
Strengthens reputation
👎 Cons:
A fake negative review cannot be removed
Essentially, Google My Business (GMB) is your business listing on Google and Google Maps. This tool gives business owners the ability to create and continuously update and manage their company listings.
Nowadays, it is extremely common for people to find businesses through Google Maps. Many of us will start by typing "restaurant" or "gym" in the Google Maps' search bar when looking for a list of nearby businesses that fulfill the criteria and the same is true for coworking spaces.
Setting up a conscious, well-rounded business listing for your coworking space is crucial. With your Google My Business listing, you are increasing your visibility for local searches which is an excellent way of bringing in new leads.
Contrarily to a PPC ad campaign, your Google My Business listing should be created as early as possible, even if your space isn't quite ready for opening. Everything Coworking podcast host, Jamie Russo, reported that her Palo Alto coworking space GMB listing got twenty times the traffic her website did. This example alone should be convincing enough when thinking about the importance of your GMB listing.
4.1 Building a great Google My Business listing
The order in which the search results are displayed is controlled by the Google My Business algorithm which ranks listings based on location, reviews, photos, and dynamic content. Let's take a look at the different elements you will need to include in your listing.
You will need to input your exact address, your opening hours, your website, and contact information.
Include a detailed description with a couple of keywords that best describe your business. You will want to make sure that the most relevant information is found within the first few sentences.
Adding some photos of your space to your listing is essential. Most people will base their final choice on photos and reviews so it's crucial that you showcase your space in its best light.
Members and visitors alike will be able to add photos of their own when leaving a review but since you cannot control the content on that end, it's even more important that your listing includes professional-looking photos as well. To make your listing as dynamic as possible, add new photos regularly.
Include your different services and products in your listing. You can and should add your event space, desks, conference rooms, and so on to your listing and you can even use third-party apps to allow users to book those directly from your GMB listing.
Below is an example of what this should look like, courtesy of Forge Coworking.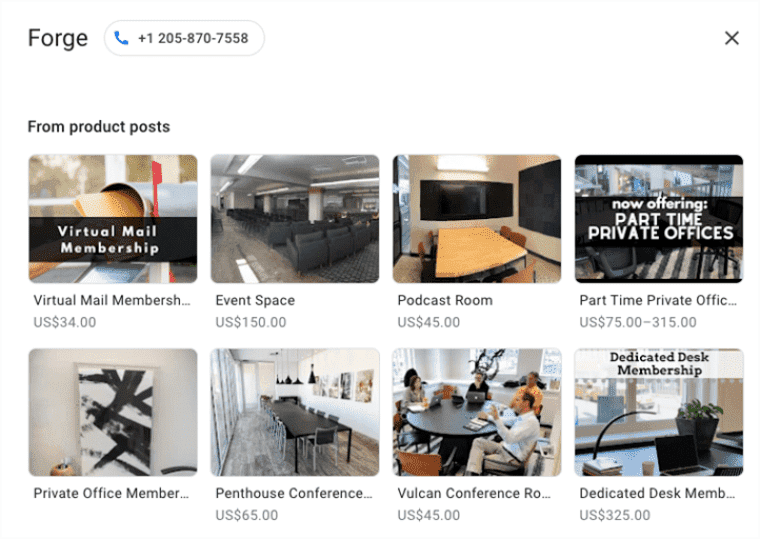 This is perhaps the most important part of your listing. On top of contributing to your coworking space's overall rating, good reviews will also influence the algorithm of a user's search. Basically, the higher your reviews are and the more reviews you get, the better your chances are of landing in the top three listings.
You can also use paid ads to appear in the top three results of the search list. This tactic is commonly used by big players in the industry which can create a competitive atmosphere which in turn can become very costly.
Luckily, if your coworking space is in a less competitive market and someone in your local area searches for "coworking space" your chances of landing in the top results is much higher. This is a good reminder to be careful about the location you pick for your coworking space.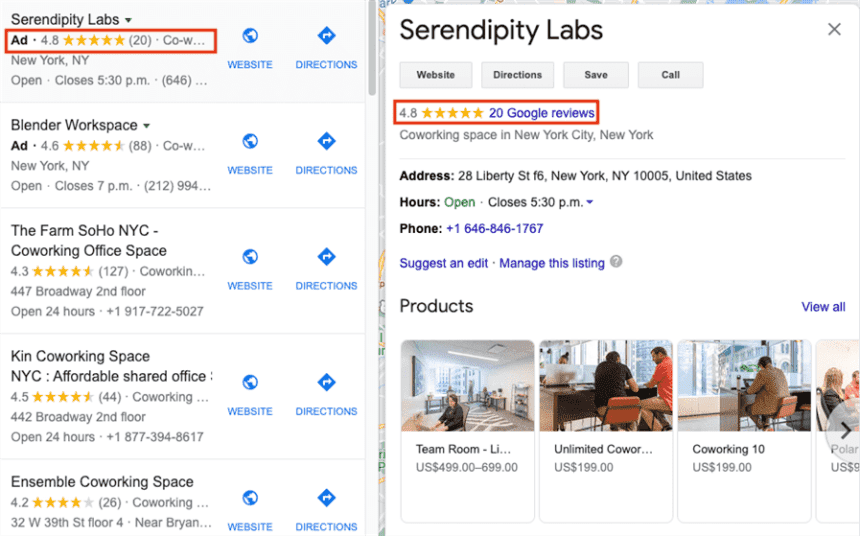 You can, and should, set your default rating to 5 stars which can be done from your admin screen.
You can ask anyone who's used your space for a review. People who booked your space for an event, a conference room, members, visitors, etc.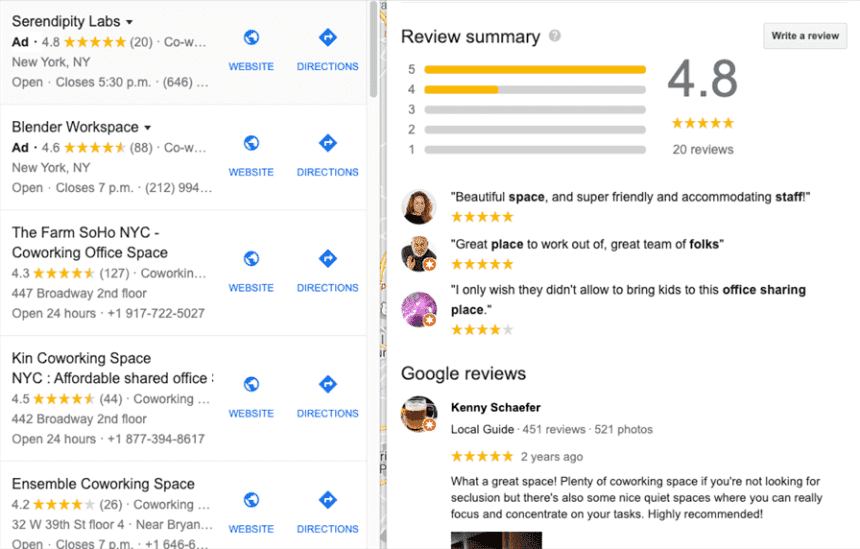 A good example of how to obtain newly joined member reviews would be to reach out to them after their first month and ask how they are finding the space so far and if they would be interested in leaving you a review.
Giving your members time to get comfortable, experience the space, and meet fellow members will build their loyalty to your business. This is crucial because without loyalty there is no real incentive for anyone to leave you a review.
A less optimal example of how to obtain new reviews would be to ask users on their way out. The issue with this is the lack of loyalty some users might have, as explained above. This tactic may work on some already established users who are familiar with the space but would likely not work on many other prospects.
Replying to those highly valuable reviews is another important best practice. You will want to make sure that you answer every review, especially the bad ones. This is another way of keeping the content of your listing frequently updated.
We recommend that you also add your best reviews to your website for those potential leads who don't end up on your GMB first.
Dynamic content and offers
Another key aspect influencing the Google My Business algorithm is dynamic content and offers are a great way to create a dynamic listing.
You can include in your listing different offers such as promotions, upcoming events, and open houses. Offers can be changed monthly, you should try to update your offers as frequently as permitted.
Below is an example of a Google My Business listing with an offer, curtsey of MKE CoWork.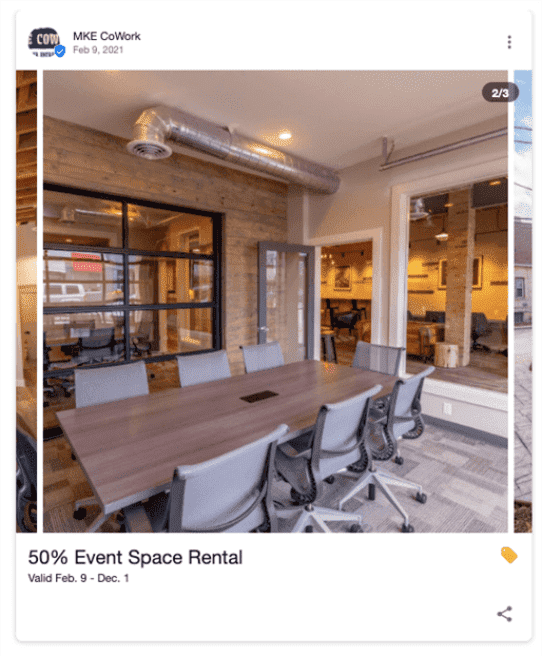 Your Google My Business listing should be updated at least once a week. The main advantage of a tool like GMB is that you are landing in front of consumers who are already looking for what you are selling. Unlike Facebook ads or traditional advertisements which are displayed to your target audience, GMB and Google search ads are generated when a user enters keywords related to your business in a search engine, meaning that they are already at the "interest" stage of your sales funnel and are looking to make a decision soon.
For this reason, we strongly recommended that you allocate a proper budget and dedicate time to managing your Google My Business listing.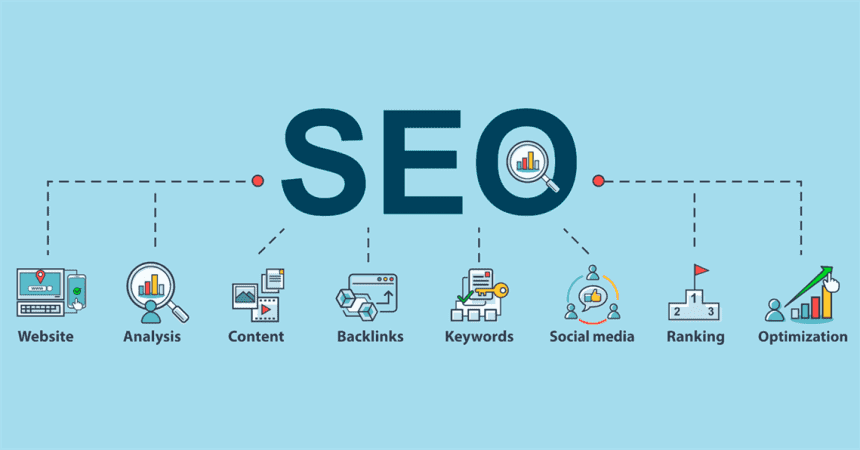 👍 Pros:
Can be done for free
Improved traffic and web presence
Expands your reach
👎 Cons:
Takes several months to show results
Results are not guaranteed
A strong SEO strategy will need to be managed by a marketing agency
Low ROI if you are a small coworking space operator
If you are unfamiliar with the term, SEO stands for Search Engine Optimization. This marketing tool is used to increase your website presence and ranking on search engines such as Google.
SEO is a digital marketing practice that increases the quantity of traffic on your website, this is achieved by optimizing your website and using related keywords. There is on-site and off-site SEO.
On-site SEO refers to how well you optimize your own website so that it ranks high when desired keywords are searched while off-site SEO pertains to the actions you are taking outside of your website to increase your ranking in the search results such as other pages linking your website.
Using SEO alone for your coworking space marketing will likely be insufficient. You should absolutely make sure that your website is optimized for SEO but you also need to keep in mind that SEO is a long-term game, meaning that it will take several months for you to see results.
Tips for SEO website optimization
Make sure that your site uses Title Tags,
Include either text, images, or a relevant alternative attribute to referring links
Provide a sitemap file with links pointing to the important pages on your site
Provide a page with a human-readable list of links to these pages (site index or site map page)
Limit number of links on a page (a few thousand at most)
Add Google Analytics to your website
Find the right keywords to include with Google Trends or Google Search Console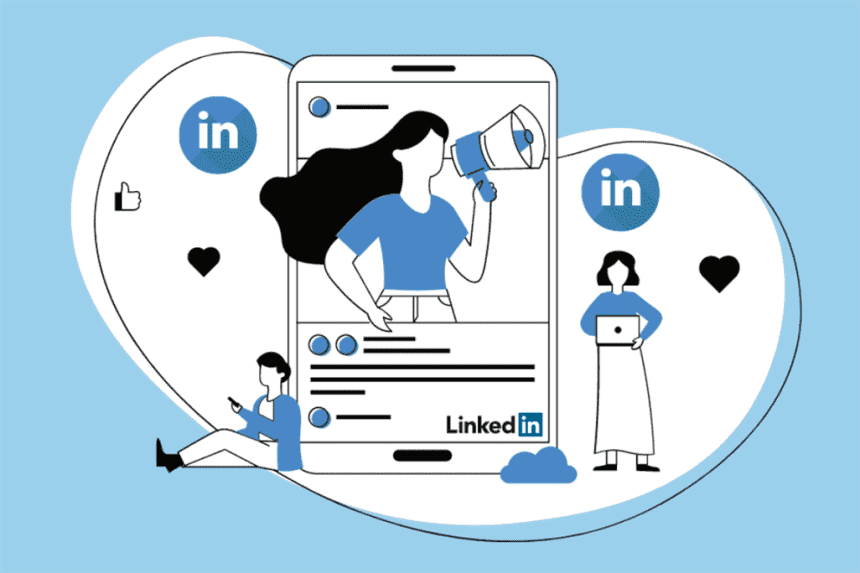 👍 Pros:
Large audience
Good targeting capabilities
Professional audience
Good customer support
👎 Cons:
Low ROI – LinkedIn is expensive
Interface isn't user friendly
LinkedIn can also be used as a marketing tool. You can advertise your business and do outreach directly on the platform but you should keep in mind that the price of advertising on LinkedIn might not give you the return on investment you are looking for.
Focusing on making sure that your business LinkedIn profile is always updated and that you post content regularly to try and gain some organic reach and engagement is a good way to increase your overall online presence for free.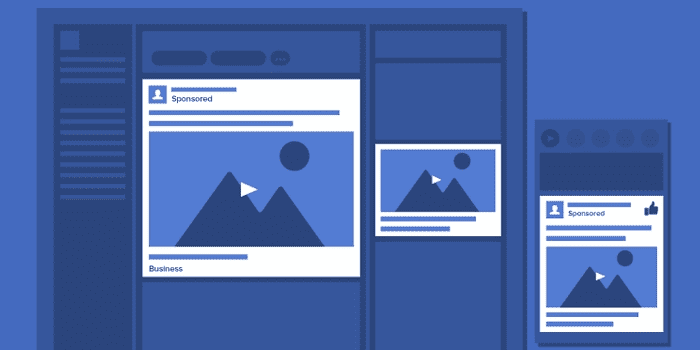 👍 Pros:
Many targeting options
Widest reach
Many ad types are available
👎 Cons:
Good ROI – Large players use it
Can become expensive quickly
Ads exist on Facebook only meaning users have to log on to see them
You need a marketing agency to set it up
Social media marketing is exceptionally important. With the always rising popularity of digital marketing, it is nearly impossible for a business not to include a social media marketing strategy and do well.
Facebook ads operate from your Facebook Business account through Facebook's Ads Manager which makes it easy to create and track campaigns. Businesses can create an audience from scratch with specific parameters such as location, age, interests, and demographics.
You can also create custom audiences, also known as remarketing ads, which allows you to target ads to members of your previous audience who had interactions with your business in the past. This is a great tool because it gives the business a second chance to acquire earlier leads and because of Facebook's wide demographics, you're likely to find at least one segment of your audience in it.
Your Facebook ad will also need an objective. There are three types of goals to pick from, Awareness, Consideration, and Conversion. It's important that you understand the different objectives. Your objective will determine whether you should use Carousel ads, Video ads or Story ads for your ad campaign.
You should always try to make your ads entertaining and appealing to your target audience as well as include a clear and compelling call-to-action.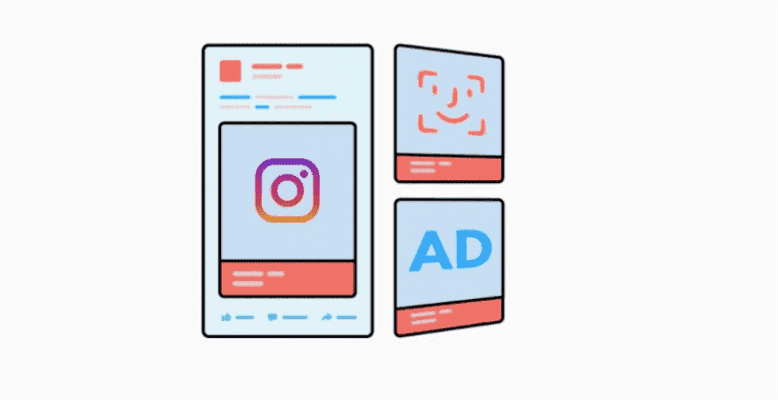 👍 Pros:
Increases visibility and brand awareness
Many options of types of ads to choose from
Less expensive than other social media platforms
👎 Cons:
Less organic reach
Limited audience
Limited features for small businesses
In comparison to Facebook, Instagram's demographic skews younger and isn't as wide.
Setting up an Instagram ad campaign is a very similar process to that of a Facebook ad. You will set your objective, define your audience, choose your ad type (carousel, video, etc.), and ad placement (Instagram only, both Facebook and Instagram). You will also have to set a budget and a schedule for your ads to run on.
Apart from having different demographics, the main difference between these two platforms is in price. While Facebook ads tend to lean on the pricier side of things, Instagram Feed and Story ads are amongst the most affordable options with an average ranging from $0.80 to $1.30 Cost Per Click.
With both Facebook and Instagram, you will need to test out different strategies and tactics in order to find the winning recipe. This can be very time-consuming so businesses generally outsource the work entirely to an agency that specializes in digital marketing.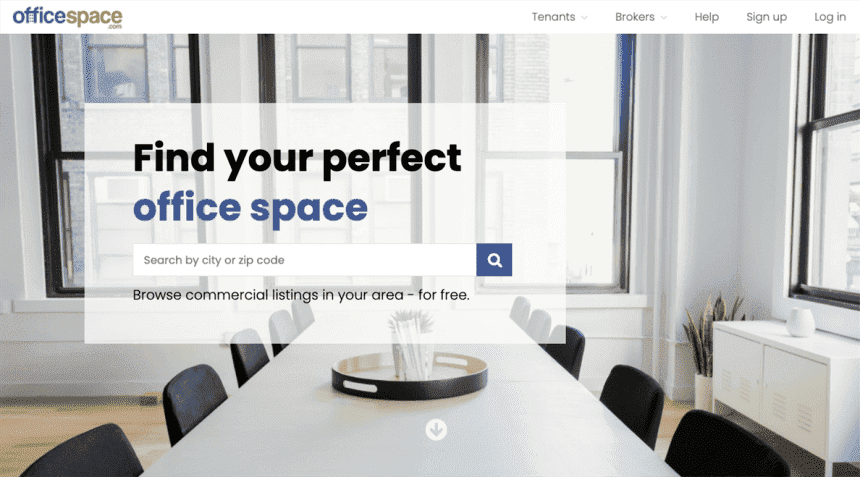 👍 Pros:
Can slightly improve SEO
Increases visibility
Only pay when you convert a lead
👎 Cons:
Little to no authority on content
No direct communication between the business and the consumer
Low amount of leads per Aggregators
Fees paid could be high
An aggregator website for coworking spaces functions kind of like an Airbnb for offices. There are several websites that provide directories for local coworking spaces. Having your space listed on a couple of these is a good way to put your space in front of the consumer but it won't do much in terms of marketing your business.
This tool merely names your coworking space from a long list of similar spaces, meaning that your potential member will not get to experience brand identity, making it that much more difficult to build any sort of loyalty.
If you are planning on using an aggregator website as part of your marketing strategy you will want to make sure that you are also employing other marketing tactics that better present the essence of your coworking space to the consumer.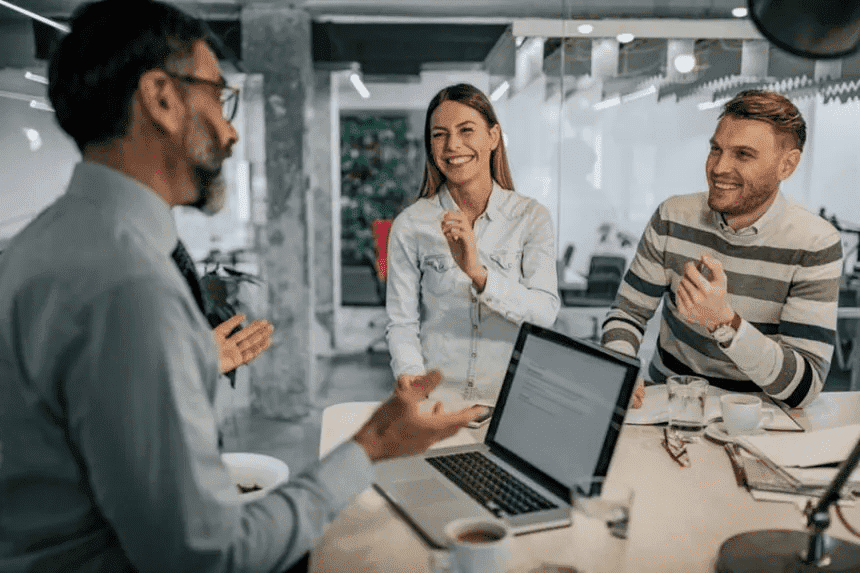 👍 Pros:
Increase visibility
Good for large deals that transact only through brokers
Capped cost of acquisition (5 to 10% of the contract value)
Used by large players use it
👎 Cons:
Time-consuming
No results guaranteed
You can request the help of local brokers to refer clients to your space. This can be very time-consuming since you will have to conduct a search to find local brokers and their contact information and then contact each one individually to see if you can work out a deal.
If you wish to use the services of brokers you will need to look up your local broker's directory which can be found through a simple Google search by typing in "[your area] broker directory".
From this directory, you will have to narrow it down to the commercial brokers in your area and create your own secondary directory with their respective contact information.
Next, you will need to pick up the phone and call each one individually. Contacting brokers via email is not recommended, brokers get numerous emails of this type and yours is likely to be overlooked or simply never make it to their inbox.
Big competitors like Knotel and WeWork use a different approach and invite the local commercial brokers of the area to open nights and sit down with each one individually to get their attention and work out a deal. This is very time-consuming and is probably not worth it for small coworking space operators.
Listing your coworking space with a broker may give you more visibility but it's not guaranteed. Therefore, using the services of a broker might simply not be worth the time and money you would have to invest to see results.
👍 Pros:
Low cost per lead
Typically has a high conversion rate
Organic reach
👎 Cons:
A referral program will not account for a large percentage of your acquisition
Referrals are another marketing tool you can use to promote your coworking business.
You can offer incentives to existing members to refer your space. An example of a referral program would be offering a free month to members who bring in a new client.
Referral programs are common in membership-based businesses such as gyms but likely won't do much for your coworking space. Ultimately, word of mouth is a better way to get referrals. Your members will naturally refer your space to their friends and family if they are genuinely enjoying it so you are better off focusing your energy on your member experience than on referral programs.
👍 Pros:
Combined customer base expands exposure
Cost-effective
Increases trust and reliability
👎 Cons:
Might involve a referral fee
Great ROI if the partners make sense
Partnering with other local businesses is a great way to increase your coworking space visibility. You can work out deals with local business groups to be advertised on their mailing list, Facebook, LinkedIn, and so on.
You can also create a two-way partnership where incentives are offered from both sides. For example, you could enter a partnership with a nearby gym in which both sides would offer their members a free day pass for the other. This is another great way to leverage the visibility of your space with partnership marketing.
This strategy can be one of the most effective ones out there if you pick your partners wisely. Try to create partnerships with professional groups like your local chamber of commerce, small business owner groups, start-ups, and any other relevant business associations in your area.
Otherwise, you will also want to consider your potential partner's demographics and target audiences to see if it lines up with yours. You can also ask your most loyal members for their opinion on which businesses they frequent most and what draws the best crowds.
👍 Pros:
Increases awareness
Inexpensive
👎 Cons:
Reaches only people who are nearby your business
Can be tedious to replace or modify
Need a designer
Unlike most of the tools reviewed so far in this article, signage is a physical marketing tactic. While digital marketing may take up most of your marketing budget and strategy, signage is one tool that should not be overlooked.
Make sure to include signs visible from outside your space that clearly indicate where and what it is. Additionally, you should have business cards, handouts, etc. visibly on display inside your space for your members and visitors to take home. You can also try to place these in neighbouring businesses to attract more people to your space.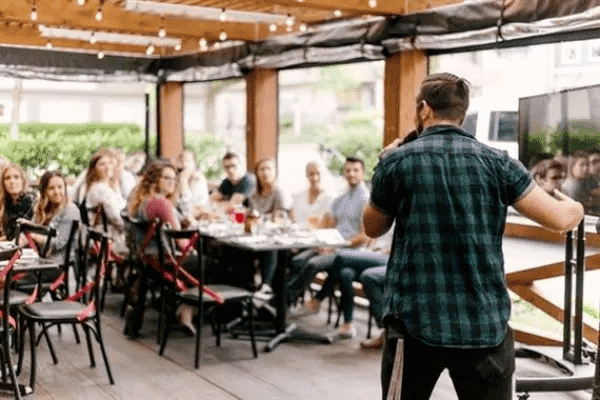 👍 Pros:
Builds organic community
Increases traffic
Increases social media engagement
Builds loyalty
Can be extremely effective – Large players use it
👎 Cons:
Can be expensive
Time-consuming
ROI is difficult to measure
Hosting events is important because they will bring in more foot traffic to your workspace, meaning that you'll have higher chances of your space being scoped out and rented. Generating interest and familiarity with your space is a great marketing tactic.
There are different types of events that target different goals and audiences. Depending on the size of your space, the location, and your budget, one might be better suited for you than another.
Below is a list of the three main types of events you can host to bring in more foot traffic:
Seeking out interest groups for events in your coworking space
Paid events that you promote
Community-building events for members
15.1 Interest groups events
The secret recipe to client acquisition is reaching out to interest groups who may want to use your workspace for events.
One of the best things you can do to grow your clientele is to seek out other businesses that may be interested in hosting events in your coworking space. Think of this as a promotional sale on your services. To grow your client base, you have to give people a chance to see how fantastic your space is.
How to seek interest groups:
First, focus on finding groups of interest that you think would want to come back to your space. This could include small businesses, societies, associations, or any other kind of customer base you're looking for. Be careful not to do this with everybody, but only with groups you feel are worth it.
Then, you will have to reach out to them. Give them a call and pitch them your space at a reduced cost. You will want to either do that or give it to them for free and only have them pay for the cost of the labour for the event. Chances are they won't be able to refuse such a good deal.
Finally, give them the workspace and let them organize their own event.
Once they have spent time in your space and saw how terrific it is, they will be likely to use your space again. The bonus is the connection you will build with this potential clientele, which will only make your business more trustworthy and reliable.
Your main goal here is to create an interesting paid event that you could advertise online.
If you have a target market in mind then this is the option for you. With a promotional event, you will be able to make it as niche or as broad as you would like. The location of your space is also an important factor, and if you are located somewhere like a busy city then this might be a great option for you.
How to set up a promotional event:
First, you will want to do a cost-benefit analysis and see if this event type is the right move for you. Consider all the costs and what you will get back through ticket sales and potential clients and then decide if it's the right step.
Next, think of a specific group of people you are trying to target. If there is one that you would like to pursue your space, then make the event specific to that group of people. For example, if you want to target small business owners, you could make a formal training event on advertising online.
Make all the important decisions including the date of the event, the budget, the speakers, and so on.
Set up your event on your coworking software to have unified billing. For example, at Archie, a leading coworking space software, we provide a tool for you to market events and sell your tickets. You will also be able to share the link on different platforms like Facebook or LinkedIn.
Here is a view of what the software looks like: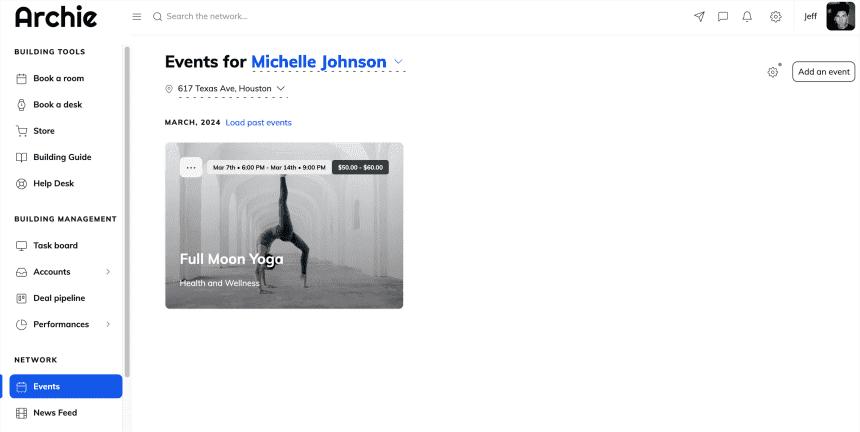 Promote the event online and through various advertisements. Social media is a great tool for advertisements, so look into Facebook, Instagram, Twitter, and maybe even TikTok.
Have the event!
While this requires a lot more effort than any other type of event, depending on your situation, you may greatly benefit from it by acquiring clients rapidly and making money from these events. Consider the fact that these types of events don't have to happen regularly, but once in a while. The big plus is also your ability to can cater these events towards specific groups that you'd like to have in your space.
15.3 Community Building events
This type of event happens with your existing clientele and relies on referrals and members feeling like they are part of their coworking space community. These are great if you are a space owner in a smaller town, where building community is easier or space isn't very big.
Community-building events are great for low-cost ways in which you can engage your customers and show them how exciting your coworking space can be. A plus is how simple they are to create and host.
One way this will bring in even more foot traffic is by letting your customers bring in paying guests. Not only will you be making some money back, but you'll also have more referrals to your coworking space.
A list of some types of community events you can host:
Training on a specific topic
Happy Hour
Watch party for a sports game
Game night
Click here for more community event ideas
Events are a great and exciting way of acquiring clients and building trust through referrals and real-time experience. Although not all three types of events are feasible for everybody, there are enough options for you to choose which type of event is best suited for your coworking space business to thrive and grow.
16. Implementing your Marketing Strategy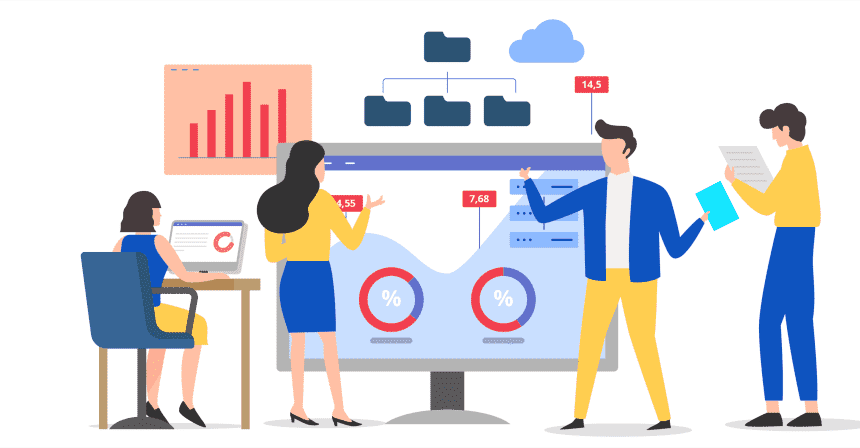 Implementing your marketing strategy will be the easiest step if you have prepared accordingly. Be consistent with your marketing and you will be rewarded.
Don't forget how powerful your coworking space community can be. Playing into your strengths is always the best approach to create an interesting and engaging coworking space both online and offline that will excite existing and potential members alike.
Additionally, regardless of which direction you are planning to take for your coworking space marketing, you will need an inviting, well-designed, website for your space. This is absolutely crucial in today's digital age. Important information such as location, opening hours, social media accounts, etc. should be visible right away or easily found by anyone navigating your website.
While some potential clients might actually never end up on your website before showing up at your space, it is likely that the majority will. Consequently, you want to make sure that this first impression on your potential members is the best it can be.
Other than being consistent with your marketing, you also need to be consistent with your tracking and analysis. It is crucial that you put in place a process that allows you to measure your strategy's success.
To find out more about this check out the "Metrics, Data, and KPIs for Coworking Spaces" section of this course!
Still, have questions or something you wish to discuss? Join our Facebook Group and enter the conversation on everything coworking.