In this article you will find:
This article is part of the school of coworking course through Archie. Make sure to check out the other articles to learn more about how to start a coworking space business.
1. Coworking Membership Agreement
Your coworking space is nearly ready to welcome its first members but before you can officially open your doors you will need to establish the terms and rules of the space. You will want to have a coworking membership agreement for your members to sign to ensure that these terms and conditions are being respected. 
The agreement that clients looking to use your space will have to sign will be different than the traditional types of contracts required to lease office spaces. Essentially it will follow the form of a license agreement , not be confused with a lease agreement.
2. What's the Difference Between a Lease and a Coworking Membership Agreement?
Typically, a lease is a contract in which the owner turns over exclusive access of a the property to the tenant. A license agreement on the other hand gives a licensee permission to use the space. 
There are several differences between these two types of contract. Still, perhaps the most important difference between a lease and a license-type agreement is that a lease will fall under the governance of your local tenant and landlord regulations while a license will have its own governing body. 
While a coworking membership agreement is not a lease, it is still a legally binding document that your members will need to sign if they wish to use your space. 
As the operator, it is your responsibility to draft a comprehensive contract that clearly states the terms and conditions of use for your space. 
This type of contract is generally not bargained for, meaning that both parties are not reviewing and negotiating the terms of the agreement. That being said, the operator still has the right to negotiate with a potential client with specific needs if they wish.
3. Why do I need a Coworking Membership contract?
There are some reasons why you want your members to sign such a contract before using your space. 
For one, you want to ensure that the rules you are putting in place are being honoured and that your members can take full advantage of the space in a way that is respectful of others. 
Explicitly listing the terms of use in your member agreement will ensure that your back is covered in the events that anything would go wrong. 
For example, if your contract did not specify that members are responsible for their personal belongings and there was a theft incident, you could be held responsible for replacing the lost items. 
To sum it up, a coworking member agreement is an essential tool to ensure smooth operations in your coworking space.
4. What to Include in a Coworking Space Agreement
Each coworking space is unique in its own way and your membership agreement will likely reflect that. While your space might require the agreement to include or exclude certain details and provisions, we've listed the main things to consider and include in your member contract. 
We suggest that you include the terms of use, in part or in full, on your website so that it is easily accessible to future and existing members alike.
4.1. Common details and provisions
General information about your space should be included in your membership agreement. 
Details about the services and amenities provided by the space, such as office space and internet access should be found in this section.
Also known as a code of conduct, this is a vital part of your member agreement. This section of the contract should list a set of rules for your members to follow when using the space, including prohibited activities and use of the premises. 
Keep in mind that these rules should encourage your members to foster a respectful coworking space environment.
Membership details must also be included in your coworking space agreement. It should make mention of the duration of the contract, renewal and termination specifics, as well as payment terms, prices and methods.
These clauses are required to establish the extent to which members can use your space. Ultimately, this part of your agreement should explicitly state that members may only use the space for its dedicated purpose and nothing else.
Liability is another crucial element of a coworking space member agreement. This section must declare you, the operator of the space as well as your employees, as non-responsible for any damages, injuries or losses suffered by any given member or their personal belongings.
A confidentiality clause is exceedingly relevant in coworking spaces due to the communal nature of the setting. This clause should express that members are prohibited from disclosing any confidential information they become privy to while using the space. 
Your members should be granted a certain level of privacy. Since coworking spaces can be busy hubs, it is essential they be aware of their obligations in regards to confidentiality before they start using the space.
Even with the information detailed above, we understand that drafting a legal document of any sort can be intimidating especially if you are not using the services of an attorney. 
Thankfully, we've included a coworking agreement template to help you get started with yours. 
Below is an example of a membership agreement for coworking spaces. Download the full template here.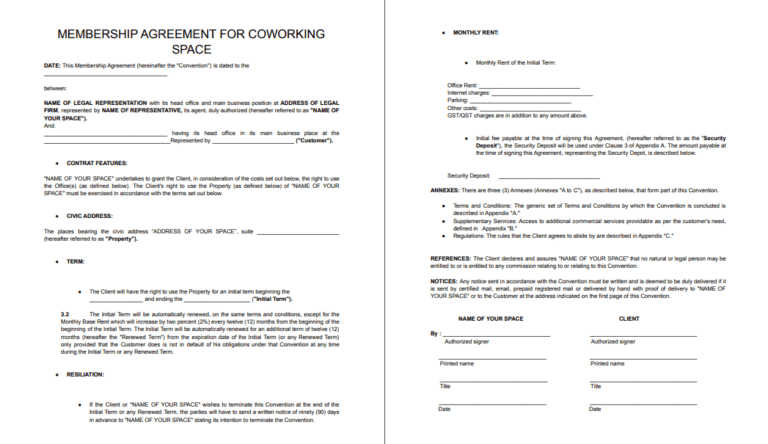 For more templates you can visit the following websites:  
The common clauses of a coworking member agreement and the templates included in this article are a good jumping point. Still, it is important to keep in mind that some aspects may vary according to your location. Work with an attorney to make sure that your agreement isn't in violation of your local civil code.
5. Last Words on Coworking Membership Agreements
When it comes to coworking membership contracts, the great thing is, you don't have to select a particular one since you can customize the terms of the contract to suit the specific needs of your space. 
Again, we recommend using the services of an attorney to finalize this document to ensure that everything is up to code. You are otherwise privy to include or exclude whatever details and provisions best fit your coworking space and your member needs.
Still, have questions or something you wish to discuss? Join our Facebook Group and enter the conversation on everything coworking.