In this article you will find:
This article is part of the school of coworking course through Archie. Make sure to check out the other articles to learn more about how to start a coworking space business.
If you are a coworking space owner, chances are you've experienced how difficult it is to manage everything on your own. Hiring someone to do all the management may also be off the table and feel like a waste of funds, so what is the solution to the chaos of coworking space management? The answer is coworking management software. In the digital world we live in today, it seems futile to resort to manually managing all the aspects of your business, but thankfully there are many software that are created to help you through your coworking space journey. The real question is how do you choose one? 
In this article, we'll explore the fundamentals of coworking space software so that you can make an informed decision about choosing one that suits your needs best.
What Is A Coworking Space Software?
A coworking space management software is exactly what it sounds like. It is an online operating system that is designed to help you with the management of your coworking space. Coworking software like Archie will have features that will help you automate your coworking space. 
The features may include automated invoice generation, room & desk booking, or even automated contract signing and distributing. Depending on what your coworking space needs are, you can make a decision on which software is best for you. 
A coworking space management software is a necessity when you are starting a coworking space. Without the digital aspect of your space, it will be harder for your clients and for yourself to manage aspects of your space. Your competitors will also be using a software for their coworking space, which means that you'll also have to get one.
Why Is It Important To Have A Coworking Space Software?
The answer to this is simple. You want to have a coworking space so that you can take some stress off your back and focus on tasks that are not easy to automate. 
You want your coworking space to grow and thrive, and if you're spending all your time with tasks that are redundant and easily automated, then you are taking away from doing more important work to grow your business. 
A coworking space software gives you the ability to pass off the tasks that are easily automated to the software itself so that you can make room in your schedule to focus on making decisions for your coworking space. Doing so will not only give you more time but bring you revenue in the long run as you get to have the organizational aspect of your business completely taken care of. 
A coworking space management software is a great investment for your business that you should consider putting on your priority list when conducting your business plan. It's a revolutionary system that is necessary for you to optimize your space's revenue and usability.
Steps To Take When Choosing A Coworking Space Software
Below we've listed a step-by-step guide for you on how to choose the best coworking space software for your coworking business. Remember that every coworking space is different and unique, so you need to focus most on the demands of your own space before anything else.
Step 1: Identify your needs for your coworking space
Your needs will then be a guide for what to look for in coworking software features. For example, if your coworking space is large and has a lot of clients to manage you will want to find a software that can deal with booking, billing, invoices, communication, and so on. The key is to find the areas you need help in and find the best software that can offer you those things. 
Start thinking about the way you run your business and how you like to have things done. For example, think about the way you charge your customers and how that would look if it was automated. 
Below are some criteria for a coworking space software. Keep these in mind when you start thinking about the needs of your coworking space.
1. The features of a coworking space software
Different coworking space software have different features. Some may be more geared towards admins while others are made for members. Figure out your needs and shop around for the best software for your space. 
Below we've given you a few key features to look out for when shopping for a coworking space software. Remember to cater your preferences and priority features to the needs of your space.
A list of some features to look out for:
Room and Desk Booking: How you choose to make your members book your coworking space is a crucial aspect of your business. You want your members to have an easy time booking and for everything to go smoothly. It is extremely important to have a software that does room and desk booking well since this is the feature that you and your members will be using the most. The software you choose should have the options for daily, as well as hourly booking, and space should be bookable through an online platform and a mobile app. Make sure the software you choose also has an interactive floor plan so that your clients will be able to identify and visualize where they will sit in your space. 
Automated billing and invoicing: Billing is important in a coworking space. You don't want to have to waste days at a time sending out invoices to clients, or configuring different pricing for members and users every time someone comes into your space. Instead, look for a coworking software that automatically generates everything for you. This will be the biggest time saver. Things like rooms and desks should be automatically bookable and payable right on your website. Your members should be able to do everything in one spot, and instantaneously get their information as well as payments through. Regardless of what size space you have, this feature is a must when choosing a software. Look for coworking software that not only have billing features installed but ones that actually serve a purpose and will help make your job easier. 
Credit system: A coworking space software should have a credit system in place. This is very important if you want your members to have certain recurring plans. Good software should allow you to create plans with credits that can be distributed to your members which in turn they can use for room and desk bookings. A credit system is critical to have so make sure that the coworking software you choose has this feature. 
Administrative features: These features are also a big time-saver. A good software will have the ability to generate contracts and send automated emails to your clients. Look for these features when choosing one. 

Email: Countless emails need to be sent out in a business like this one. Whether it's new clients that need information on your space, current clients who need email notifications, or even emails for administrators, you need a software that will do the job. 
Contracts: When welcoming new members to your coworking space, you may choose to use contracts for them to sign. This is a good precautionary measure and if you choose to do it, you will need a software that can support it. A good software should give you the option to configure your signature as well as other information that would automatically go on the contract. The contracts should also have different variables that will automatically input the right information according to the client. 
Contract signature: Another important feature to consider is the contract signature. If you are sending automatic contracts you will want to be able to automatically have your and your space's signature on them. Find a software that allows you to personalize automated contracts that are sent out to your members. 
Communication: Communication throughout the software is very important. Make sure that the software you choose allows you to send direct messages, emails, and notifications when needed to your staff or your clients, and that it also gives them an option to contact you. 
Issue and ticket management: This is an important feature to have in a coworking space software, as it will allow you or your staff to be connected to the needs of your space and your members. This feature will allow your members to send any issues as tickets or tasks to you on the software, where you or your staff will see and could resolve them. For example, if your printer was out of paper, a member could write you a ticket and you would see it and deal with the issue. Look for software with this feature as it will allow your members to feel heard and taken care of. 

Integrations: Integration features are important depending on your space. You will want to make sure your coworking space can integrate with the basic needs of your space. For example, if you want automated door access, you'll want to look for a space that integrates with that. The most popular door access integration for coworking software is Kisi. Other popular integrations for your coworking space include Ezeep for cloud printing or Iron WiFi for WiFi management. 
Community features: Features that engage the community can be very important depending on what kind of space atmosphere you would like to cultivate. If building a community is important for your space, then you will want to find a software that can help you do so. This could be a space on the software where your members can engage with one another. 
Reminder: When choosing a coworking space management software, be careful when it comes to features. Some software have features that are unnecessary and make things more complicated. Look for software that are simple to use and efficient.
Some coworking software are very hard to learn and manage. This is very important when you make your choice for one. You will want to make sure that the software is easy to understand and use. As we mentioned before, some management software may have unimportant and useless features that will just be there to confuse you even more. Try to find ones that are simple and efficient. 
Look for a software with a clean-looking interface that is easy to navigate and self-explanatory. Having too much clutter on the software will hinder your productivity and take your time for unnecessary reasons. 
Make sure you ask the company for a demo. When shopping for a coworking space software, you often have the option of demo-ing it before purchasing. This will be an opportunity to take your time and explore it and figure out if you are able to use that software with ease.
Support for customers is important in a coworking space software. Chances are you have never worked with a software of this sort before, so you will have questions, problems you run into, and things that will need to be cleared up. The company you choose for your coworking software should have a good technical support system in place and give you a great onboarding process. Another aspect you have to prioritize is free live chat support. 
When trying to find a coworking space management software pay attention to the support you are offered. Are the company representatives quick to respond? Do they answer all your questions effectively? Do they have an onboarding process or resources that allow for an easy learning process? What is their customer support system like? 
Try to find out the answer to these questions before you purchase their software by examining how they interact with you, and asking them important questions.
Step 2: Consider the cost of a coworking space management software
The cost of a coworking management software may be the determining factor when you choose one. Pricing is different for every software and is usually either based on how many members you have, how many locations you have, or both. 
The pricing often starts at 100 members and one location and can be monthly or yearly. Usually, the yearly prices are slightly less expensive, but they do have to be paid upfront. Depending on your space and how many members you have or anticipate having the prices can vary. 
Pricing usually ranges from $99/month to $230/month for 100 users and one location. Prices go up with more members and more locations. You also often have the option of customizing your plan, but that is often an option for bigger spaces with more than 200 members. 
When choosing a software, it's important to keep the price in mind. You want to make sure you get the best value for your buck. If you haven't already, make room in your budget for a coworking space software and figure out how much you can invest in one based on your needs, size of space, and number of members in your coworking space.
Step 3: Do research for the best coworking space software
It's important to do your research when it comes to coworking space software. After all, this will be one of the most important aspects of your coworking space, and one of the biggest ways your members will identify you. 
When looking for a coworking space look for the company website and try to understand their offerings. It might be tempting to try and get in touch with representatives from all different software, but this will be time-consuming and will require a lot of effort.
Coworking Space Software Rankings
When you do your research for the best coworking space software, you will want to check out coworking space rankings. Many times, certain coworking websites or blogs will create rankings of different software to help you choose the best one for you. This is a great tool for you to be able to compare the different software and see all the features of all of them in one place. 
One of the most notable and reputable coworking space resource websites is Coworking Resources. They provide aspiring and already established coworking space owners with resources, guides, and information that is comprehensive and thorough.
Check out this ranking on Coworking Resources of the best coworking software of 2021. Go through it on your own so that you can see all the software side by side and understand which is best for you by narrowing them down.
Another great ranking resource is DropDesk's comparison of 18 different software. Here you can see a lot of software and learn important details about them, such as features, pros, cons, and much more, which will help you make an informed decision.
How Archie can be the best tool for you
Archie is a leading coworking space software** that can attend to all your company's needs with an elegant, easy-to-use interface. Not only does Archie have great automation options for your coworking space needs, but also a great price and a simple platform with many integration options.
Archie is known to have great features that are functional, effective, and practical. Unlike other coworking space software, Archie's features are specifically designed to lessen your workload and make your job easier. The features are separated into three sections that are designated for different functions for you and your members to use. 
✅ Tip: One great thing about Archie's features is that you have the option to deactivate any of them that you don't need or use. This is especially handy in avoiding features that do not serve a purpose for you and also in having the option of adding them back at any point.
This section is where your rooms, desks, and plans will be displayed and booked. You will be able to create and book rooms, make plans with credits, manage a store where you can sell products and services, and much more. Here, you are able to not only create rooms and plans, but also book them for your customers. Your customers will also have the option of doing so on their own, of course. 
Think about your members and what they want. They are most likely looking for a coworking space that they can use to easily do their bookings and other transactions online. No member wants to spend time figuring out how to book something or wait to see if their booking is confirmed. People are used to instantaneous results which means that they will be expecting an easy way to navigate your coworking space. 
Archie's platform also supports all sorts of room creations and booking from conference rooms to phone booths to hot desks.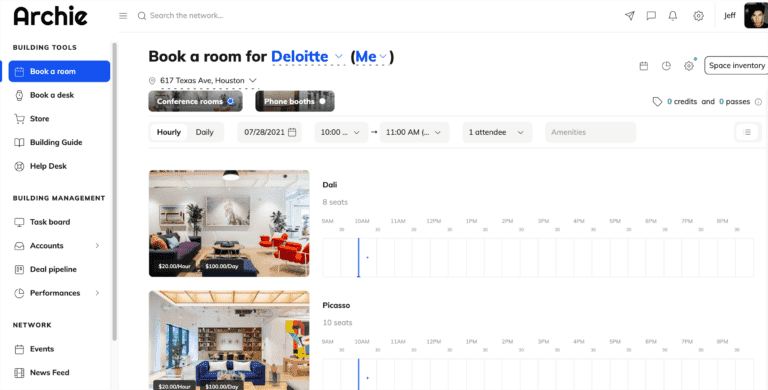 Besides the booking, your users will also be able to purchase whatever they desire right on the spot. The store feature will allow you to make and customize plans with credits that your members will be able to buy as they wish. The store will also have an option for you to sell either products or services to your members. 
The other features included in this section are the Building Guide and the Help Desk. The Building Guide is exactly what it sounds like: a guide to your building! This is where you will be able to post information about your space for your members, for example how to connect to wifi. 
The Help Desk is where your members will leave any requests or suggestions they may have about your space, which later can be assigned to your employees.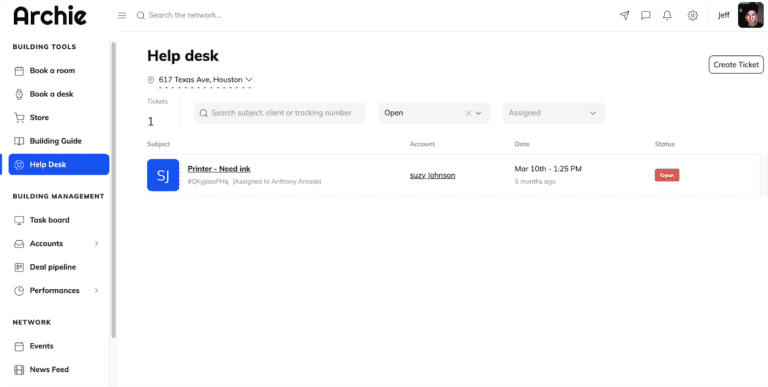 The building management section contains features that allow you to manage your coworking space. This section will be hidden from your members and will only be accessible to you. This is where you will be able to see all your invoices, accounts, quotes, purchases and transactions, and much more.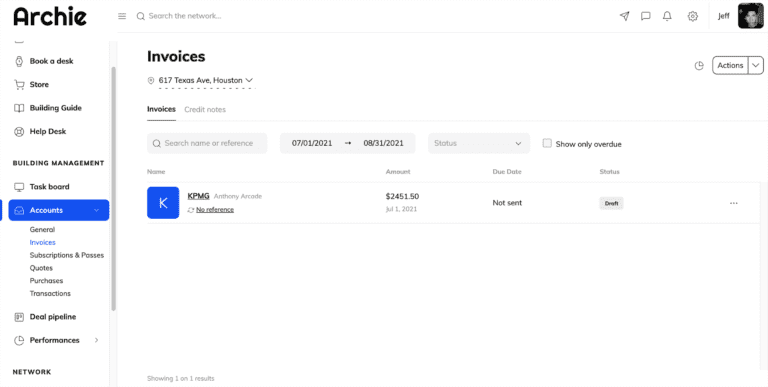 In this section, you will also be able to see statistics that Archie will automatically generate about your space, such as the amount of bookings, median meeting duration, and even popular days. This will be a great tool as you will be able to make decisions about your coworking space based on those analytics.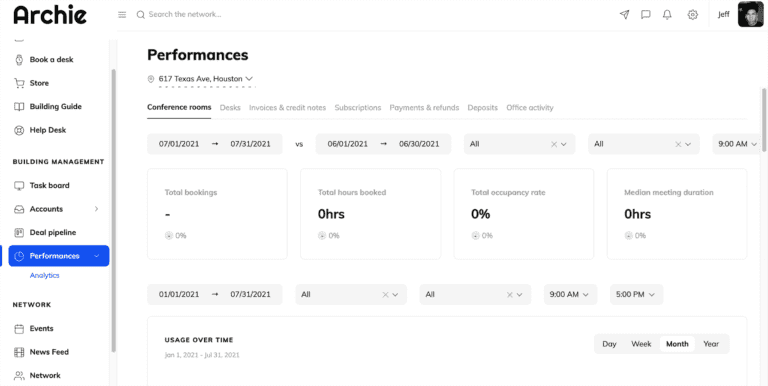 The Network section is particularly important if you want to cultivate a sense of community in your coworking space. While we recognize that not all coworking spaces make the community a priority, we still want to make this an available option for those who do. 
This section is great for your members as they will be able to connect with each other through various streams on the software. The features you have here are Events, News Feed, Network, and benefits. 
Events page you will be able to set up and display any events you're hosting in your coworking space that you would like your members to have access to, and allow them to purchase tickets.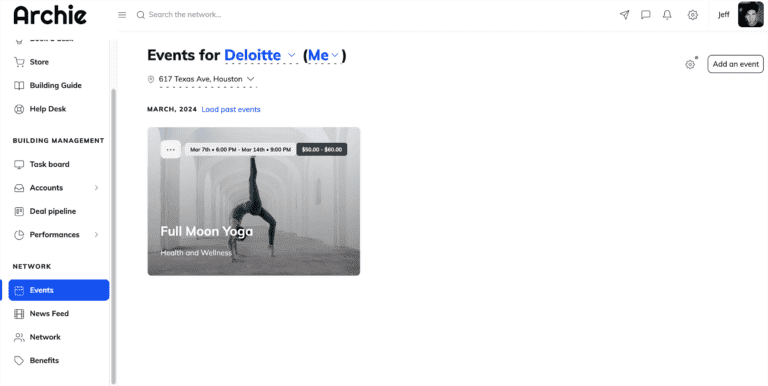 The News Feed feature will be a space for your members to post content for everyone in the space to see, and connect with each other.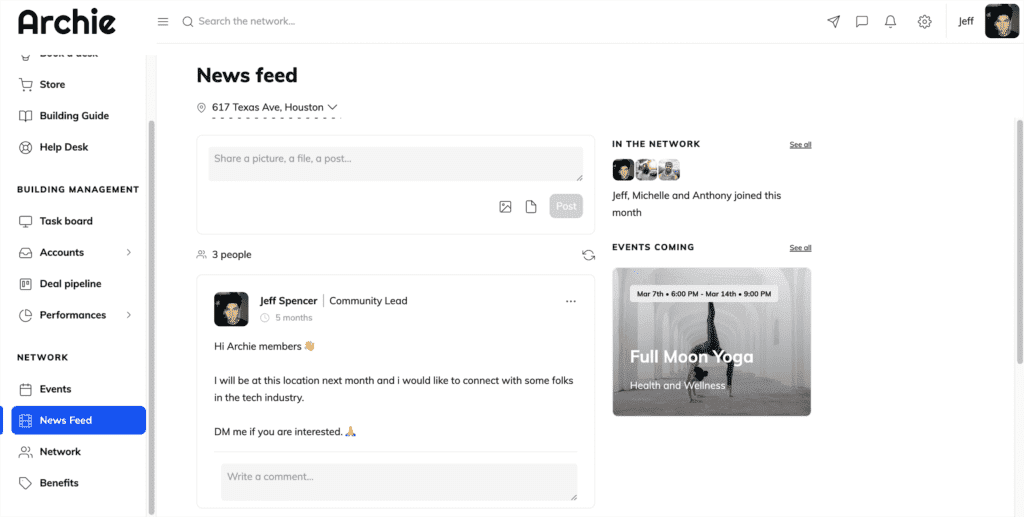 The Network feature will be where all your members' profiles will be displayed and seen. 
The Benefits feature will be a place where you are able to post any promotions you have negotiated with other vendors for your members. For example, offering them 20% off of their first Uber Eats order. 
These are great ways to keep your members engaged and build community in your coworking space. Remember that if you don't want one or more of the features to be seen by your members, then you have the ability to deactivate them.
Archie also has great options when it comes to configuring your space on the software. Once you purchase a plan and acquire the software, Archie will become customizable to all your wants and needs. 
Here are just some of the things you will be able to do on Archie: 
Input your logo 
Change the colours of the app 
Configure and override business hours 
Have automated invoice and billing generation 
Have automated contracts 
Send automated emails 
Input your own an electronic signature 
Integrate Google Calendar and Stripe 
These configurations will help you in your administrative tasks. While features are a great thing to have, the configurations that you will do to automate your space as much as possible will be your biggest time saver. 
If you are a small coworking space owner and are looking to find a way to spend your time in parts of your business other than administration, this will help you immensely. Automated billing and invoice generation will solve a big problem for you, as those are some of the things that take a long time to do manually. 
The best part about Archie is that once you have configured all the settings and personalized the platform to your business, you won't have to do it again. Archie will take care of the rest, leaving you with peace of mind.
Archie has great pricing options. Archie's prices begin at $99/month for the yearly plan for 100 active users and one location which is a great affordable option for coworking spaces that are just starting out. 
Archie's most popular plan costs $209/month for 200 active users and two locations. 
Archie also gives you the ability to customize your pricing plan if you have more than 250 active members or 3 or more locations. This is great if you have a larger coworking space business with multiple locations and are looking to automate it using only one software.
One of the biggest benefits you have when choosing Archie is the platform's interface and usability. Archie prides itself on being an easy-to-use software that can be understood quickly. Archie's coworking space software doesn't overly complicate the system, but rather puts emphasis on everything you need to know in order to succeed. Grasping what needs to be done is simple, and can be done easily with the necessary knowledge, which Archie provides you with. 
Simplicity is key when it comes to coworking space software. It's natural to think that a more complex-looking software might be better, but the fact of the matter is that it's simply not. Often those kinds of software are made to look more embellished so that they can cost more, but in reality, they are rarely a good investment. 
Archie's platform is easy to learn and configure. Resources will be provided to you to learn how to use the software, and any other concerns or questions you may have can be addressed to Archie's customer support. Everything you need will be right at your fingertips.
Step 4: Request a demo and make your choice
Once you have picked from your favourite vendors, it's time to request a demo from them. Most coworking space management software companies will give you a demo so that you can try out the product before buying it. 
Some companies may give you demo calls, while others will allow you to have access to a demo space that you can explore. This is your chance to validate your research and figure out which software is best for you out of the ones you've already chosen. 
Things you should do during the demo: 
Explore the software as much as you can 
Try to understand the organization of the software and see if you can align with it 
Ask or figure out how the features of the software work 
Figure out what you understand and what you don't understand 
List all the questions you have about the software 
Once you have asked your questions and found out all the necessary details, it's time to make a decision about which coworking management software you will choose for your space. 
Remember to choose the software that most aligns with the needs of your coworking space, you budget, and your overall impression of the company.
The coworking space management software you choose for your coworking space is one of the most important details about your company. Through it not only will you be able to automate your administrative tasks and have more time for other things, but you will also provide a platform for your customers to make their transactions. 
Choosing the right coworking management software is a crucial step in your business' growing, thriving, and succeeding. 
Still, have questions or something you wish to discuss? Join our Facebook Group and enter the conversation on everything coworking.