In this article you will find:
This article is part of the school of coworking course through Archie. Make sure to check out the other articles to learn more about how to start a coworking space business.
Recruiting staff for your coworking space is a crucial step in developing a well-rounded and successful business. While the process of finding good potential candidates may sound stressful, a good approach is to take it step-by-step and understand the needs of your company and what you can afford. We've developed a guide for you to follow so that you can understand the best ways to recruit your coworking space staff.
Step 1: Identifying your Coworking Space Needs and the Jobs to Fulfill them
Before beginning to recruit, the first important step is to identify the needs of your space and what kind of jobs can fulfill them. Of course, every coworking space is different, but there are general jobs that every space needs to be organized and succeed. In this first section, we will give you an overview of the most important jobs required for your space to succeed, but remember that more than one job may have to be done by a single employee depending on the size of your coworking space.
Your front desk agent will be the first person that your clients will get in contact with. Whether it'll be over the phone or in person, they will act as your coworking space spokesperson, so for this position, it's important to keep in mind that you'll want someone with both soft and hard skills. You have to get good at communicating and organized enough to perform the skills necessary for your space to be well-maintained.
Responsibilities of the front desk agent:
Client-related responsibilities: 
Welcoming new members 
Receiving guest and member clients 
Handling support requests i.e. lost keys, internet issues, etc. 
Handling customer move out.
Organization-related responsibilities: 
Sending invoices and handling payments 
Ordering office supplies I.e. coffee, paper, cables, etc. 
Maintaining order and cleanliness while cleaning staff is not there. i.e. 
Checking bathrooms, cleaning conference rooms, sinks, unloading dishwasher, etc. 
Maintaining security 
Naturally, the things to look for in a Front Desk Agent are good communication skills, multitasking capabilities, and organizational skills. These are important, as the agent will have to handle customers as well as daily technical tasks. In addition, you want to hire someone with a friendly personality that also has a high degree of professionalism.
The community manager's job is critical as it deals with maintaining your current clients. The community manager will be in charge of growing and nurturing a relationship between themselves and your clients. In addition, they will represent your space and act as a friendly face supporting clients' needs in the social area. By having someone in this role, you guarantee that your clients will be taken care of and will enjoy the perks of having a community in your space.
Responsibilities of a community manager:
Organizing events: Organizing events for clients is important in community building. If you want people to associate your space with a sense of community, then you will want to make sure you hire someone specifically for this purpose. Some examples of events include happy hours, games night, talks and workshops, among others. 
Building a community culture: Through events and innovative ways of bringing people together, the community manager will be responsible for creating a community culture for your company. 
Setting up community perks: This will be like organizing events but geared towards members. This will be a huge bonus for prospective clients looking into becoming members and notice that they will also get perks besides the basic plan they will be paying for. An example of this could be free breakfasts on certain days of the week. 
Negotiating deals with suppliers for community members: When creating events or other perks, the community manager's job is to find suppliers and negotiate deals with them for the members. For example, negotiating with a nearby gym that the members of your coworking space can get 20% off their membership. 
Surveying members: The community manager will survey the current members and find out what to improve on in your coworking space, as well as helping different companies and members network together. 
Some characteristics and skills to look out for when recruiting for this role include charisma, organizational skills, communication skills, and event planning experience.
While a community manager focuses on current clients, a sales person's job is to recruit new ones. Therefore, you need to find a person who knows what they're doing, as your member enrolment rate will depend largely on them. Now, if you have a small space, it might make sense to do this job yourself; however, as your space grows and you need to tend to new things, it may get harder and harder to keep doing sales yourself.
Responsibilities of a Salesperson:
Handling inbound requests: When a customer is interested in the coworking space and inquires about it, it is the sales person's job to pitch it to them and, well, try to sell it. 
Giving potential clients tours of the space: The salesperson will also give tours of the space for the interested clients. During this time, they are responsible for creating a tour that shows off the best things about the coworking space. They will also have to answer any questions the clients may have. 
Following up with prospective clients: After the initial steps, the salesperson will follow up with the clients and inquire whether they would like to rent space or not and most likely try to persuade them to. 
Contacting brokers and other companies: The salesperson will have to do some outreach to different companies or brokers interested in showing the place and renting it out for their employees. 
Creating and distributing contracts: They will also create the necessary documents for contracts and distribute them. 
When looking for a salesperson, it's important to pick someone who will handle the important sales tasks, as it would be detrimental to your space if they failed to do their job properly. The ideal candidate will be confident, persuasive, and friendly and should possess excellent communication skills.
The marketing role is essential for the branding of your space. Here you can create a brand for your business that differentiates you from your competition. The person responsible for marketing will need to understand how to appeal to your audience and entice them into renting out your coworking space.
Responsibilities of a marketing manager:
Handling online and offline marketing: Anything from designing and putting up posters to creating social media accounts and posting regularly is the marketing manager's responsibility. Marketing strategies are crucial when maintaining a business. 
Here are a few examples of some: 
Copywriting: Any written content that is persuasive is going to be done by the marketing manager. 
Blog writing: This will be crucial if you'd like to rank high on Google's search engine and stand out among the competition. 
Email outreach: Emailing all clients with news and updates about your space. 
A marketing manager should be organized and good at writing. In addition, a candidate with experience in the field of marketing is preferred but not necessary as long as they demonstrate a good understanding of the basics of marketing.
5. Finance and Accounting
The finance and accounting manager will be in charge of everything to do with handling money and optimizing your business to make a good profit. Although they may not be as visible as the other roles, having a good financial system is the backbone of every thriving business. The finance and accounting manager should be responsible for bookkeeping and analyzing the company's performance, and coming up with plans moving forward.
Responsibilities of the finance and accounting manager
Monitoring KPIs: By monitoring the KPIs of your coworking space, the finance and accounting manager will understand how to increase sales and profitability, and decrease costs to optimize the business' revenue.  
Finance and accounting: This includes various sets of tasks that they must do regularly to maintain structure through the financial part of the business.

Producing financial reports 
Setting budgets 
Tracking expenses 
Handling payroll 
Maintaining accounts receivable 
Monthly bookkeeping 
Financial managers have to be good with numbers, organized, and knowledgeable about what makes a business financially successful.
Step 2: Hiring Staff According to your Coworking Space Size
Now that we've identified the functions needed to make your coworking space functional and successful, the next step is looking at the options you have according to the size of your coworking space. Since every space is different, there is no right or wrong in regards to how those jobs are fulfilled. Whether you want one person to do everything or have different people for each role depends on the size of your space and the timing of the hires.
When you decide to hire is important when it comes to how your business will grow. If you have just opened up your space, it might be a good idea to do all the work yourself rather than hiring someone to do it. 
A coworking space takes, on average, one year to fill from the opening day, so until it has been filled with loyal customers, it might be a good idea to hold on to work yourself, especially if your space is under 7500 square feet. 
If your space is over 7500 square feet, then it might be beneficial to get at least one person at the very beginning who can help you out with some of the jobs. 
Many owners also choose to keep the sales and finance work for themselves until they have an established place.
The size of your space is probably the aspect that matters most when it comes to hiring. As mentioned before, it takes about a year for a space to be filled from the opening date. However, that can vary depending on the sizing of your coworking space. For example, having a larger space means that you may need more people to help you maintain it while having a smaller space means that there would be less to handle, and it wouldn't make sense to hire people to help. 
We've created a general guide for you to understand how to hire based on your coworking space size: 
Less than 5500 square feet: If your space is 5500 square feet or less, then it may be wise to do everything yourself. Since the size is smaller, it isn't easy to justify hiring dedicated people for different roles from a cost perspective. On the other hand, in a space this size, it may be manageable to take care of everything yourself, as there is less to do. 
Between 5500 to 10000 square feet: This is the middle range, and if you have a space in between this size, the best thing to do is to hire a community manager to take care of all the functions of the space. Here you may also have room to do some things yourself, such as sales or finances. In this case, it is better to hire only one person and pay them a higher salary for doing multiple jobs than hire multiple people and pay them all individually. 
More than 10000 square feet: If your space is bigger than 10000 square feet, you have more wiggle room when hiring. Although it wouldn't be wise to hire all the different jobs at once, it would be best to spread it out depending on your needs. Also, since your space is bigger, you have more clients to deal with, more to maintain, and more to keep track of, which is hard to do by yourself.
Tip: One rule to follow if your space is bigger than 7000 square feet is to add one additional employee for every 7000 square feet until all the workload has been segmented across the different functions. You would pay them between $35k-50k per year each. 
You will want to analyze your situation by figuring out how much space you have and how much you can afford to pay your potential staff. The guide above will help you in your decision-making, but ultimately you have to decide what is best for your coworking space.
Step 3: Job Postings for your Coworking Space
Once you have figured out your needs and what kind of jobs you can afford to hire, it's time to create job postings. You will want to tailor each job description according to the size of your space. So if you are hiring one community manager to handle all the tasks, you will need to write defined responsibilities that include everything they will have to do. Again, be concise, clear and honest so that you can avoid misunderstandings.
What you should include in your job postings:
A defined role: You will want to make sure you have been very explicit about the name of a role so that the candidate knows what they are applying for. 
Background on the company: Give your candidates some background about your coworking space and what you do to give them clarity on who you are and your business. 
Explanation of role: Here, you will explain what the roles consist of. This is important depending on what kind of role you are looking to fulfill. For example, if you want one community manager to do everything, you should define that in this section so that they know what to expect and you don't waste your time interviewing candidates who don't want to take on that much work. 
Requirements: This is where you will put any experience, degree requirements, or skills you would like your candidate to have. 
Any other statements: In the final section of the posting, you can put optional things such as salary, contact information, or any other statement. 
While the above list is a brief overview of everything that should be included in your postings, each positing will be different depending on the role you are hiring for and the size of your space.
Here are some examples of different job postings for a community manager:
1. Community manager role for a smaller coworking space: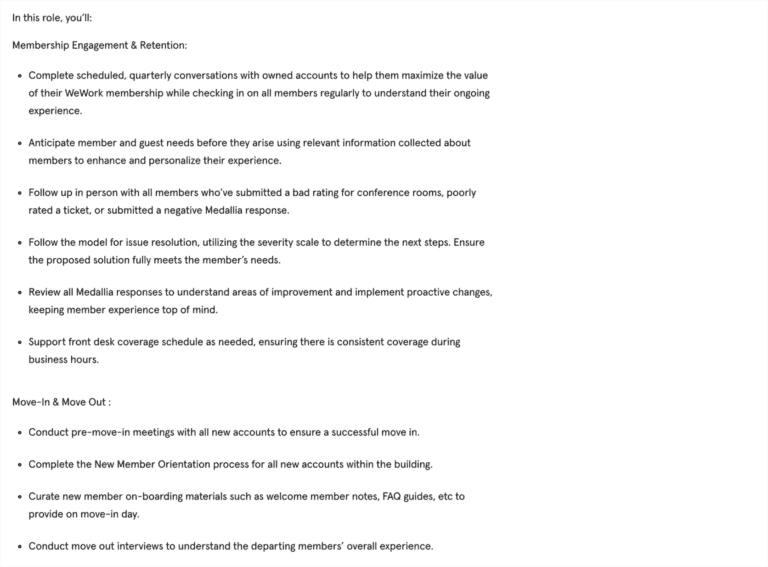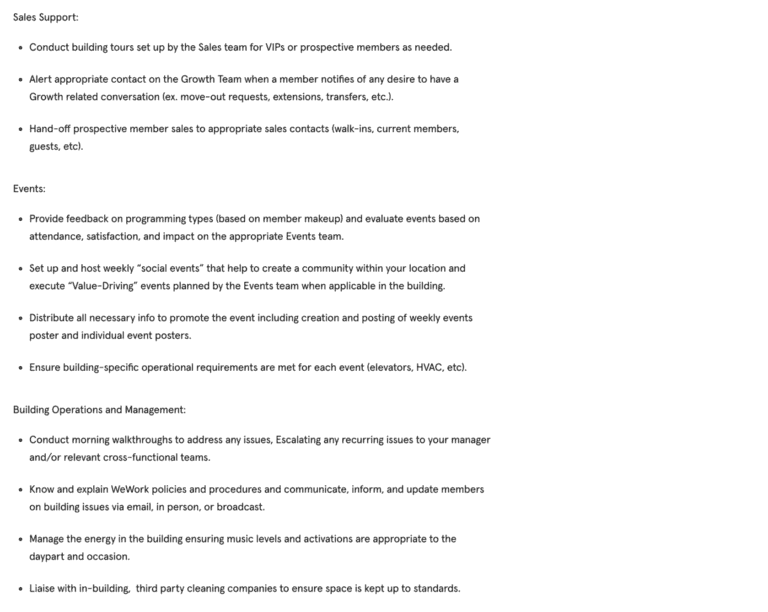 2. Community Manager role for a medium-sized coworking space: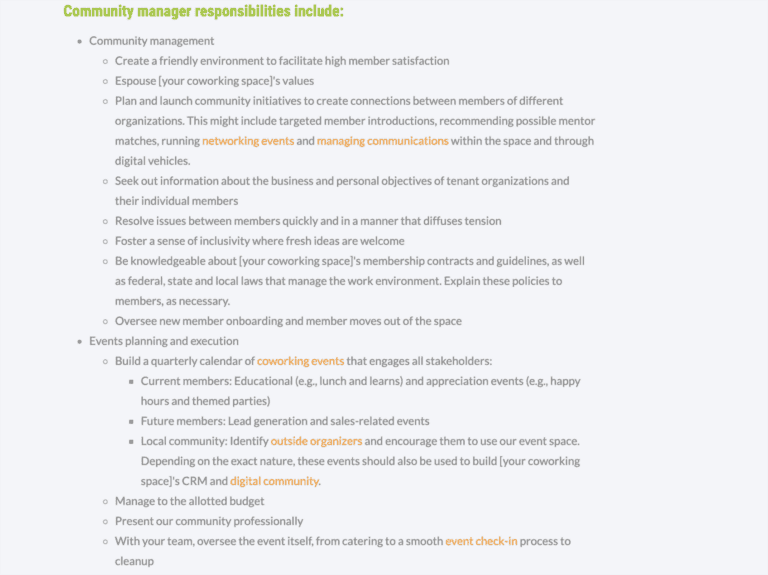 3. Community manager role for a bigger coworking space:

The above shows three different examples of how you may hire community managers. If you are a small space, you may want to consider a job posting close to the first one, where you would hire only one person to conduct all the business roles, whereas if you are a big space, you want to focus the role more closely on the community aspects. 
Make sure to publish the job postings online on your website, as well as LinkedIn, Indeed, Jooble, and any other job posting websites you feel work for you and your area. 
For more information on defined job postings for each role, click here.
Step 4: Interviewing your Candidates
So you've put out your job postings and have gotten some applications you need to sort through. Before conducting the interviews, look through all the resumes and see which ones you think would fit most with the role. You will want to narrow it down to only a few candidates, no more than 5, otherwise you will end up spending too much time in the interview process. 
The interview process can be very stressful even for the interviewer, so it's important to prepare a set of questions you want to ask the candidate. These questions will help you determine not just the background of the candidate but also their personality and temperament. Of course, you will tailor each question to the role you are interviewing for. First, however, it is important to have a general overview of what you will ask. 
Some examples of interview questions to ask your candidates: 
What do you know about our company and coworking in general? This will give you an idea of whether the candidate did his research and is serious about the job they are interviewing for. 
Have you ever worked in a coworking space before/what is your related experience? Although you will see their experience on their resume, this will be their chance to elaborate and explain to you why they would be a good fit. 
Why are you leaving your current job? If they are coming from another job, you will want to ask what made them leave that way, and you will gauge more about their expectations. 
What kind of goals do you like to set for yourself professionally? This will tell you more about their work ethic and whether they are organized and motivated. 
Why do you want to work here? This will allow them to explain why they are interested in the role you put out and what they can bring to the table. 
You can ask any other questions, such as asking them about themselves or about a conflict or challenge they faced. Next, try to figure out your coworking space priorities and what kind of company culture you would like to cultivate. Based on that, you can use the interview process to determine who would best fit your space and who you see yourself working with the most out of all the candidates. 
After you have proceeded with interviews and have picked a candidate, let them know and offer them the position. It is also a good idea to let the other candidates know that you will not be going ahead with their applications to retain credibility and professionalism.
Step 5: Considering the Benefits of Having a Coworking Space Software to Reduce Overhead
While hiring people can be very useful, not all coworking spaces have the option to do that. If you are a small space just starting out, paying for employees may not be feasible. Even if you are a bigger space and have plenty of employees, there are still tedious things that you should not waste your time on doing manually. 
At Archie, a leading coworking space software, you will be able to handle everything ranging from automation, booking, invoicing, and much more with the click of a button. Not only are you able to provide a professional experience for your clients when they book your space, but you will also have the option of automating aspects of your business that otherwise keep you from more important things. 
Archie can help you handle your finances and documents by automatically creating invoices, financial reports, accounting reports, and contracts. 
Archie will also serve as a gateway for your customers into your space. On the platform, your members and users will be able to book rooms, desks, and even purchase plans, making it more convenient not only for your clients but also for yourself. 
Booking a room on Archie: 
This is where your guests will choose from all the available rooms.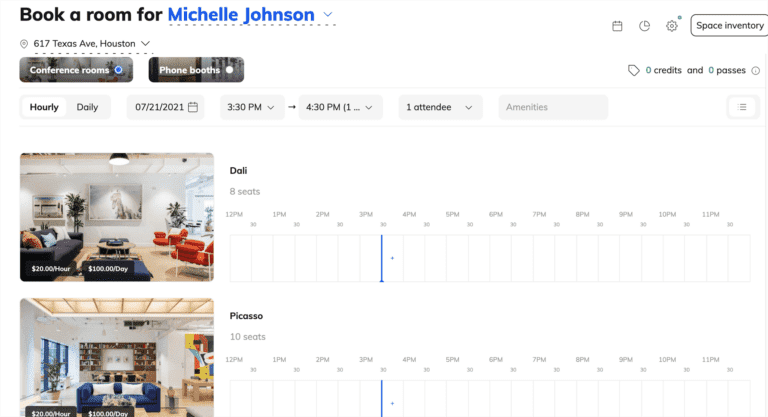 After they have chosen a room and a time, they will be directed to this page where they will see a summary of their order, and finally, they will be directed to the booking confirmation. 
Archie is an innovative platform that can help you automate many of the jobs that would take time and money to do otherwise. 
Still, have questions or something you wish to discuss? Join our Facebook Group and enter the conversation on everything coworking.